On a chilly but gorgeously sunny June evening, my wife and I drove up to Wzgórze Pachołek (Pachołek Hill) in Oliwa.
Our aim was to climb up to the viewing tower (wieża widokowa) to catch the sunset and take in some breathtaking views of Gdańsk.
How to get to the Wzgórze Pachołek Viewing Tower
In front of the main tration (Dworzec Główny), tram numbers 6 and 12 travel in fairly quick time to the stop Obrońców Westerplatte 01.
From Obrońców Westerplatte 01, it's a mere fifteen-minute walk in a westerly direction to Wzgórze Pachołek. Follow Stary Rynek Oliwski Street.
You'll eventually come to some steps which lead up to the Wzgórze Pachołek observation platform.
If you are by car, there is a small free car park on the opposite side of the road to the steps.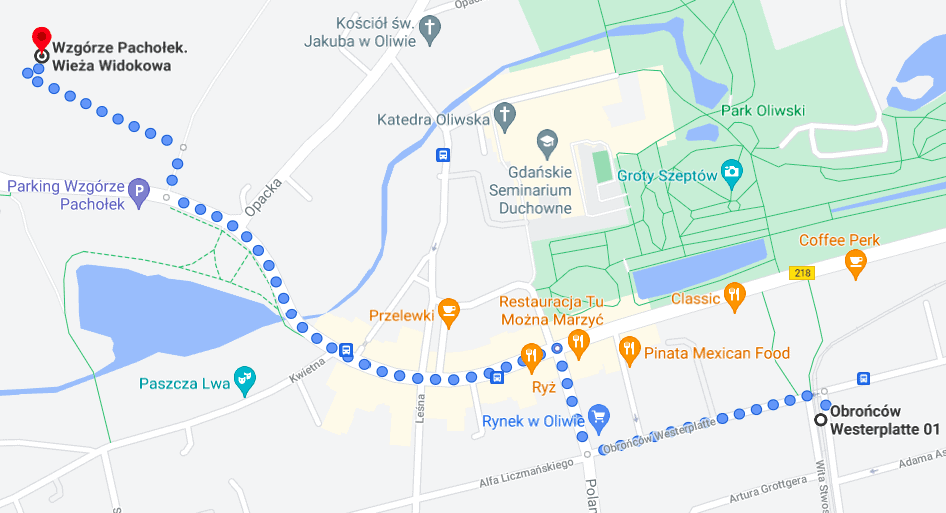 Overall impressions
It's worth climbing up Wzgórze Pachołek if you're in Oliwa or are looking for another sight to visit after you've ambled around the picturesque Oliwa Park.  
Although you may take in some stunning panoramic views out east towards the Gulf of Gdańsk, don't expect to catch the sunset in the summer months. Unfortunately, tall trees obscure the view. We didn't expect this at all so we were a little disappointed.
There are some lovely views to be had over Oliwa Forest.
Panoramic scenes from the Wzgórze Pachołek Viewing Tower
Well, here's what we observed from the Wzgórze Pachołek viewing tower: