Users of public transport in Gdańsk are able explore the city in a convenient and hassle-free manner.
Although I own a car, I have to say that I much prefer to use public transport to visit many parts of the city. For instance, I always take a tram to go to the historic part of the midtown (Śródmieście) district, and a bus to get to the district of Wrzeszcz.
Let's check out the state of play with public transport in Gdańsk after an increase in ticket prices from June 1, 2022.
Are the recent public transport fare increases in Gdańsk justified?
On June 1, 2022, public transport in Gdańsk became more expensive.
A drastic increase in fuel prices (+33%), electricity (+37%) and record inflation brought about this increase in ticket prices. I took these figures from the official website of the City of Gdańsk. 
So, a single ticket on a bus and tram used to cost 3.80 zl. It now costs 4.80 zl. This increase works out at 26.3% – not too radical considering the rising prices and inflation the Public Transport Authority in Gdańsk (Zarządu Transportu Miejskiego w Gdańsku) is having to contend with.
I think that the Public Transport Authority has been quite kind in that a single ticket now also entitles passengers to a 75-minute journey. Passengers can change buses and/or trams any number of times.
This concession means quite a lot to those who need to use separate bus/tram lines in succession to reach their destination. Indeed, my father was in Gdańsk in July and, on one occasion, he used the same 75-minute ticket for three separate journeys.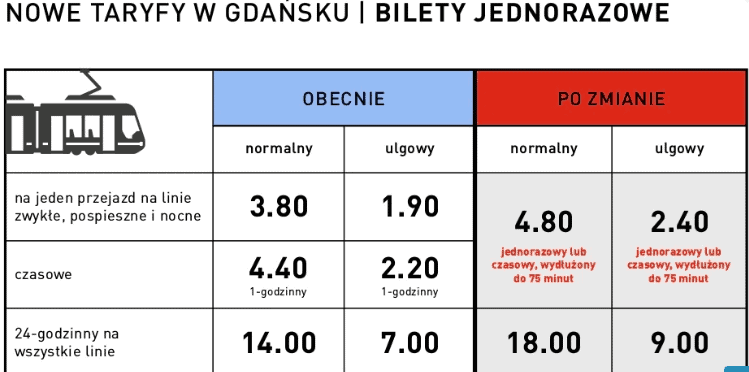 Key translations:
OBECNIE = current prices (now 'old prices')
PO ZMIANIE = prices after fare changes
normalny = normal price
ulgowy = reduced fare
na jeden przejazd = for one journey
czasowe = timed tickets
24-godzinny na wszystkie linie = 24-hour ticket on all lines
Monthly tickets – A genuine advantage
I tend to travel on public transport in Gdańsk using a monthly ticket.
From June 1, monthly tickets became more expensive, but only by 10.1% (from 99 zl to 109 zl). Again, a very reasonable increase considering the current economic circumstances.
With this ticket, passengers can travel whenever they like – weekdays, weekends and holidays.
It goes without saying that buying a monthly ticket brings about significant savings. For example, let's assume that someone uses public transport twice a day on 23 weekdays in a month. Validating single tickets amounts to 220.80 zl (46 single tickets x 4.80 zl). A monthly ticket is only 109 zl.
All in all, it's just a lot more convenient to carry a monthly ticket. Unlike with a single ticket, you don't have to validate a monthly ticket when you get onto a tram or bus.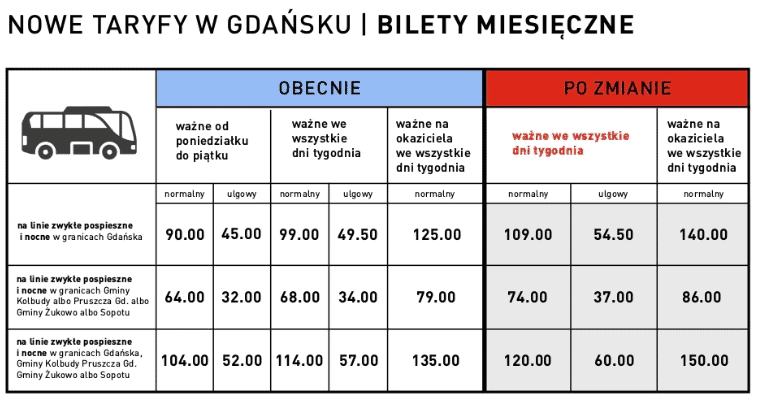 Key translations:
obecnie = current prices (now 'old prices')
po zmianie = prices after fare changes
ważne we wszystkie dni tygodnia = valid on all days of the week
What are the bus and tram services like in Gdańsk?
I've been using trams and buses in Gdańsk on a regular basis since moving to the city in February 2020. 
As previously mentioned, I much prefer to take a tram to visit the historic centre of Gdańsk. The tram stop is just a five-minute walk from my flat and I have two lines (10 and 12) which stop in front of Galeria Morena shopping centre. There haven't been many times where I've had to wait more than five minutes for a tram on weekdays. 
It's a slightly different story on weekends because tram lines 10 and 12 tend to run every 20 minutes. However, the schedule has been created in such a way that if, for example, tram 10 arrives at my stop at 11:30 and 11:50, then tram 12 would arrive in between these times, i.e. at 11:40. Hence, I generally don't have to wait longer than ten minutes for a tram on weekends.
In terms of crowding in public transport in Gdańsk, I only recall a few occasions where there's been a mad crush inside a tram or bus. This suggests that the Public Transport Authority has achieved the right balance in terms of the regularity of routes. 
I've always been fairly satisfied with the cleanliness of public transport in Gdańsk. There's nothing the Public Transport Authority can do about people (especially kids) who eat fast food and crisps inside buses and trams. However, I can't say that it's a common occurrence for people to eat on board. 
SKM trains
SKM (Szybka Kolej Miejska – Urban Rapid Railway) is the yellow and blue commuter-train network which runs between Gdańsk, Sopot and Gdynia.
I haven't taken an SKM train for well over a year. This is not because the service is poor or overpriced. It's more due to the fact I don't live especially close to the main railway line. Since I bought a car in April 2021, it's been more convenient for me to drive to places like Sopot and Gdynia. 
Nevertheless, I'm reconsidering my options due to fuel prices and the cost of parking in Sopot, for example.
SKM train prices are set according to the number of kilometres you travel: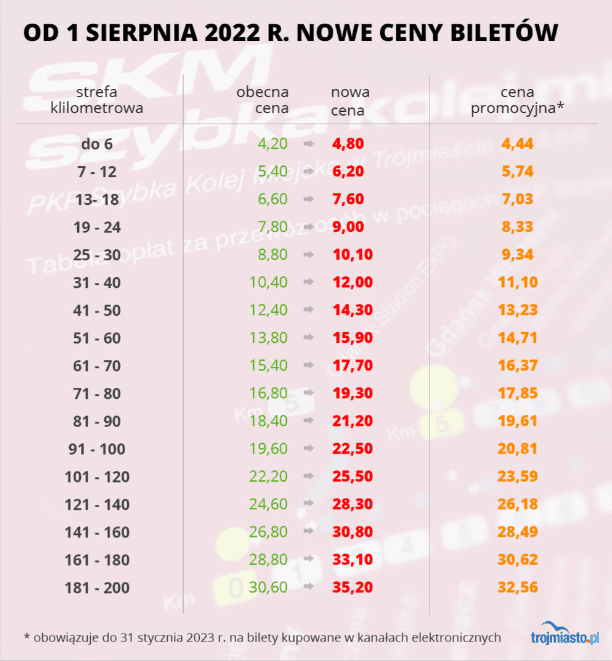 Key translations:
od 1 Sierpnia 2022 R. nowe ceny biletów = new ticket prices valid from August 1, 2022
strefa kilometrowa = kilometre zone
nowa cena = new price
cena promocyjna = promotional price (valid until 31 January, 2023, when purchased online)
Run a search here to check out prices of season tickets, zonal tickets and other types of ticket, such as single fare tickets between specific stations.
As an example, buying a ticket at Gdańsk Central Station to travel to Gdynia Orłowo Station would set you back 7,60 zl. In my opinion, this is very reasonable if your purpose is to have a day out in the charming Gdynian seaside village of Orłowo.
Prices of public in transport in Gdańsk compared with other major Polish cities
The fact remains that public transport in Gdańsk is very reasonably priced in comparison with fares in other major Polish cities.
Honestly, I find it quite astonishing that the price of a 60-minute/one-journey ticket in Kraków is 6,00 zl. This is 1,20 zl more than the cost of a 75-minute/one-journey ticket in Gdańsk. 
Nevertheless, the price of short-term tickets (24 hours, 48 hours and 72 hours) in Kraków are more than acceptable. For instance, the price of a 24-hour ticket is 17 zl, while a 72-hour ticket costs 50 zl. The biggest bargain of all for tourists is the 7-day ticket priced at 56 zl.
I have also noticed that passengers can buy a 20-minute ticket in Kraków for 4,00 zl. This is quite reasonable.  
As for the situation in Poznań, a 15-minute ticket costs 4 zl, while a 45-minute ticket costs 6 zl. So, prices are broadly similar to those in Kraków. However, a 90-minute ticket costs 8,00 zl, which is a little steep in my view. 
Nevertheless, prices for 24-hour and 7-day tickets in Pozńan are very respectable (15 zl and 50 zl respectively). These prices are for zone A – the City of Poznań – which excludes surrounding villages. Finally, it costs 949 zl for a yearly ticket in the City of Poznań – quite a bargain for those who can afford to pay upfront.
I recently wrote a post about the public transport network in Warsaw. Ticket prices there haven't changed in 10 years which is extraordinary. In the capital, it only costs 3,40 zl for a 20-minute ticket and 4,40 zl for a 74-minute ticket.
Public transport in Gdańsk – Prices are rising, but the majority of passengers understand the situation
According to the management of the Public Transport Authority in Gdańsk, previous studies of passengers' preferences show what is a priority for Gdańsk and the city's citizens. Namely, the quality of public transport – frequency, new routes and the quality and consistent upgrading of rolling stock – is far more important than the price of tickets. 
I haven't seen these studies so it might be worth taking such information with a pinch of salt. 
My main argument in this post has been that public transport in Gdańsk is reasonably priced given the current economic climate. However, I wouldn't like to pay 6 zl or more for a single ticket, or over 120 zl for a monthly ticket, in the coming years. 
Honestly, the price of tickets is my main concern. I don't see how ZTM can improve the frequency of connections more than it has done. As for introducing new routes – any proposals anyone?