Property Tax office in Gdańsk, City Hall – Podatek od nieruchomości, Urząd Miejski w Gdańsku
Fuelled by my desire to run as many errands as I can in my first few weeks in Gdańsk, I recently treated myself to a visit to the Property Tax Office in  Gdańsk in order to check my property tax affairs for 2019. 
I bought my flat in May, 2019, and had paid my share of property tax for the second quarter and the entire third quarter, so I just wanted to see what was what for the fourth quarter because I didn't receive that bill in the post.
THE LOCATION OF THE PROPERTY TAX OFFICE IN GDAŃSK
The Property Tax Office in Gdańsk is located inside the City Hall (Urząd Miejski) at 8/12 Nowe Ogrody Street, just a stone's throw from the Forum Shopping Centre.
FINDING THE PROPERTY TAX OFFICE INSIDE THE CITY HALL
Upon entering the City Hall of Gdańsk, it seems to be common for the porters to approach those who look lost, like I did, to see whether they need any help with finding the right office.
In my not-so-fluent Polish, I asked a porter where the property tax office was, and he directed me to go up the stairs to the second floor and turn right at the top of the stairs. From there, it was a fair old walk to room 253 – the property tax office.
The City Hall is a huge maze, but most of the main offices, such as the registry office and the property tax office, are well signposted.
GETTING SEEN AND WAITING TIMES
Unlike the registry office, where you have to take a ticket from a ticket machine to join the queue, getting seen at the property tax office is dependent only on the organisation and honesty of visitors.
When I arrived, there were only five or six people in front of me. I waited around 25 minutes before entering the office. By the time it was my turn to enter the Den, there were around ten to twelve people behind me waiting to get seen. I'm sure that the person at the end of that line had to wait at least 50 minutes.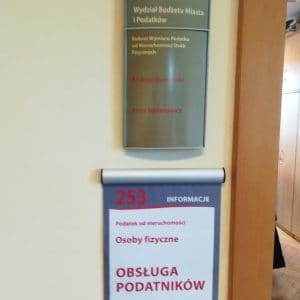 SERVICE WITH A SMILE?
Not quite service with a smile, but considering the sheer number of people the two employees working in the office have to deal with on a daily basis, I'd say that it was a case of "efficient and helpful where possible" service.
Realising that I hadn't received the bill for the fourth quarter of 2019, the female clerk called a lady working in room 264 to check my situation. I was then informed to go to room 264 to collect a statement.
Just as I was entering room 264, I belted out a hearty "dzień dobry"  to three female pen-pushers. Curiously, one of the three lovely ladies began to giggle. Perhaps it was my English accent or my boyish good looks which ruffled her feathers? Anyhow, I got the printout I wanted and made my way out.
PAYING A PROPERTY TAX BI

L

L
The lady who gave me the bill in room 264 told me that I could pay next door in room 265. As far as I can tell, this room is specially designated for the payment of property tax bills.
Quickly twigging that the room was locked because it was a breaktime, I made up my mind to pay online.
MY OVERALL OPINION OF GDAŃSK'S PROPERTY TAX OFFICE
In comparison to the laughably disorganised bureaucracy I encountered on a regular basis in Serbia, things seem to run like clockwork in the City Hall of Gdańsk.
There might be a bit of a wait to reach the front of the queue, but I won't be waking up in a cold sweat should I have to Gdańsk's property tax office again.
KEY TERMS TRANSLATED

:
property tax – podatek od nieruchomości
City Hall – Urząd Miejski
finance department – wydział finansowy