In 2018, I received confirmation of my Polish citizenship. Collecting documents for my application inspired me to employ an archivist to engage in some Polish family history research for me. 
Let's dive in to see what this archivist found out:
Polish and Belarusian connections
Before January, 2018, I had very limited knowledge about my Polish grandfather. Certainly, I had never become engaged in any Polish genealogy research myself. 
I had only known that my grandfather, Edmund, was born in the area of Navahrudak in modern-day Belarus. Of course, this was once Polish territory. The Polish name for Navahrudak is Nowogródek.
I had also met my grandfather's sister, Henia, who lives in the UK. However, I didn't know anything about my grandfather's parents and his other sister, Yuzefa.
Archival investigation
Firmly intrigued, I set about hiring an archivist to do some Polish genealogy research for me. Eventually, I found a very reliable and pedantic Belarusian chap on Upwork called Aliaksandr.
At the end of January, 2018, Aliaksandr informed me that he had some information about my grandfather and relatives. I learned of their names, dates of birth, birthplaces and how many years of education they received. It was an extremely uplifting start.
Aliaksandr also sent me this intriguing map: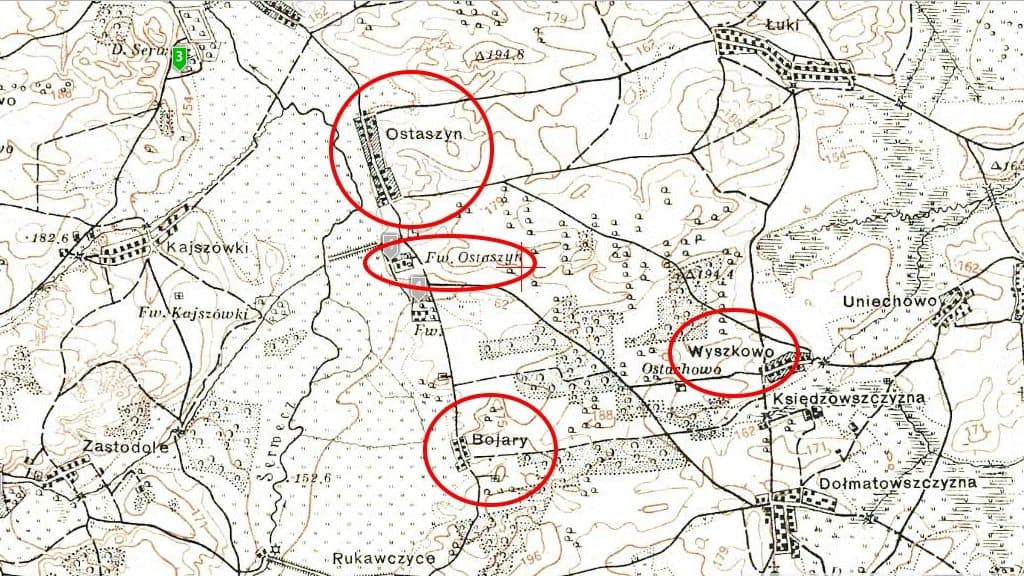 All but one of my relatives were born in three small villages – Ostaszyn, Bojary and Wyszkowo. These villages are only a few kilometres apart from each other. My great-grandfather, Józef, was the only relative born in modern-day Poland (in the Białystok province).
Moving on, Aliaksandr contacted several archives in Belarus and Russia to see if they had any records concerning my relatives. 
A few of the archives, such as those in Navahrudak and Minsk, do not have any information. However, there are two archives in the western Belarusian city of Grodno which could reveal a great deal about my family.
Aliaksandr contacted the National Historical Archives of Belarus in Grodno. According to them, metrical books on the villages where my grandfather lived from 1921 to 1927 were burned. 
Interestingly, Aliaksandr wrote that he does not believe that the books were burned. He was keen to check out the state of play with the archive.
At the State Archives of Grodno Region, there is information pertaining to my relatives and their villages. 
Finally, in Arkhangelsk, Russia, there is information about my whole family.
Archival research can produce some shocks and further questions
If learning of my relatives' names, birthplaces and dates of birth was not enough, Aliaksandr also found out that my family were political prisoners.
Indeed, on March 1, 1940, my family arrived on special resettlement in the Arkhangelsk region of Russia. According to Aliaksandr's findings, they were resettled in the "Ust-yansky district, the Lake of Veruezh".
"Veruezh" must be an alternate spelling of something else. Unfortunately, I have not been able to find the lake on Google Maps or through a Google search. To complicate matters, there are dozens, if not hundreds, of unnamed lakes in the Ust-yansky district on Google maps.
My family members were released with special resettlement under amnesty on September 9, 1941. I am eager to know what happened to them after this date.
How can you start your Polish family history research journey? 
Apart from hiring genealogical researchers on Upwork, you can also find experts through the Association of Professional Genealogists (APG). 
Back in 2018, I found one genealogical researcher on APG called Daniel Paczkowski. Daniel's able to locate living relatives and arrange ancestral tours in Poland and neighbouring countries, such as Belarus. Daniel kindly agreed to give an interview to Finding Poland which you can read here.
Of course, you can look into your Polish family history on sites such as familysearch.org and ancestry.com.
Final thoughts
Things are a bit tense these days on the Polish-Belarus border. However, I'd dearly like to go on an "ancestral tour" of my relatives' villages in Belarus.
I showed the archivist's findings to my father back in 2018. He was certainly very keen to go to Belarus to get a feel for what life was like for his father and relatives in those places.
Maybe one day.