Pierogi restaurants in Poland are ubiquitous. However, finding a pierogarnia with such an appetising and varied menu as that at Pierogarnia Mandu is quite a challenge. Quite frankly, Pierogarnia Mandu's menu is in a league of its own.
Mandu has two locations in Gdańsk. The first is on Elżbietańska Street close to Gdańsk Główny train station. Meanwhile, the other Mandu restaurant is just a few hundred metres away from Oliwa Park. What better way to spend an afternoon in Gdańsk than by combining lunch in Mandu with a walk around Oliwa Park.
Anyhow, a visit to Mandu's city centre restaurant is the focus of this post.
Summer crowds versus early October calm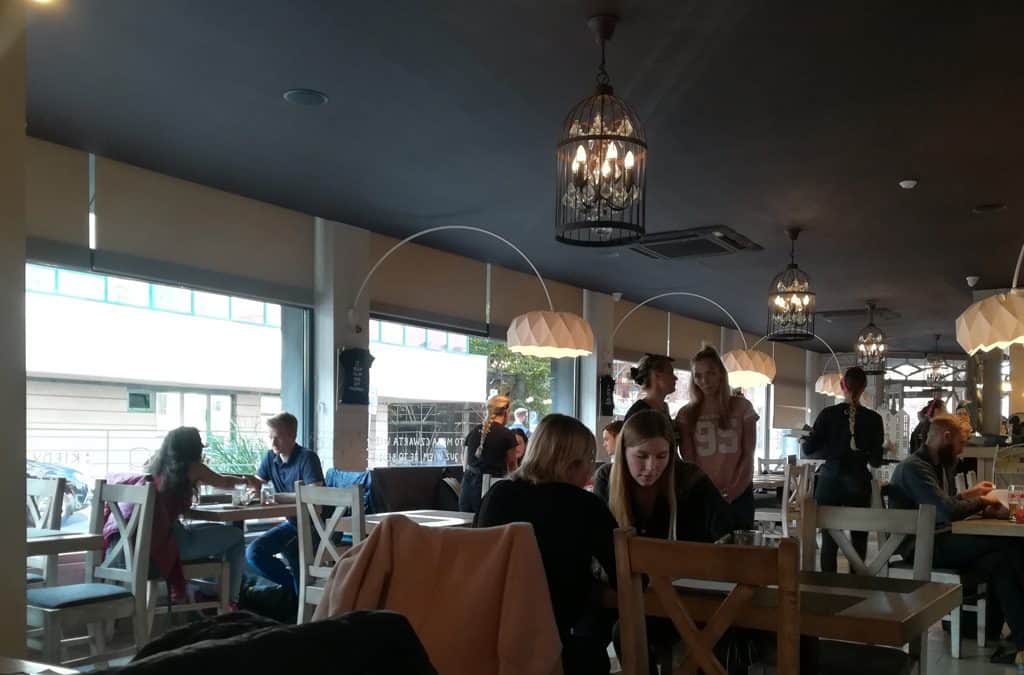 My wife and I have walked past Pierogarnia Mandu many times at lunchtime in the summer months. We often see around twenty-five people queuing outside to get a table. The menu is made fresh to order. Therefore, I imagine that many of those souls in August must have waited over two hours to get a table. It is possible to make a reservation. However, as Mandu's website states, it's sometimes not so easy to make a reservation due to the hungry hordes which rock up in their droves.
In terms of incurring a hunger-filled wait, my wife and I never had such issues. This was a chilly early October day. There were only two people in front of us waiting to enter and they soon entered once some other people left. I was pleased to see a nice fellow with a clipboard adding people's names to a waiting list. Professional and orderly indeed.
Regardless of the weather and which season it is, Mandu is always busy between 12pm and 3pm. The difference between peak tourist season and a cold February day is rather in the waiting time to get a table.
Pierogarnia Mandu's menu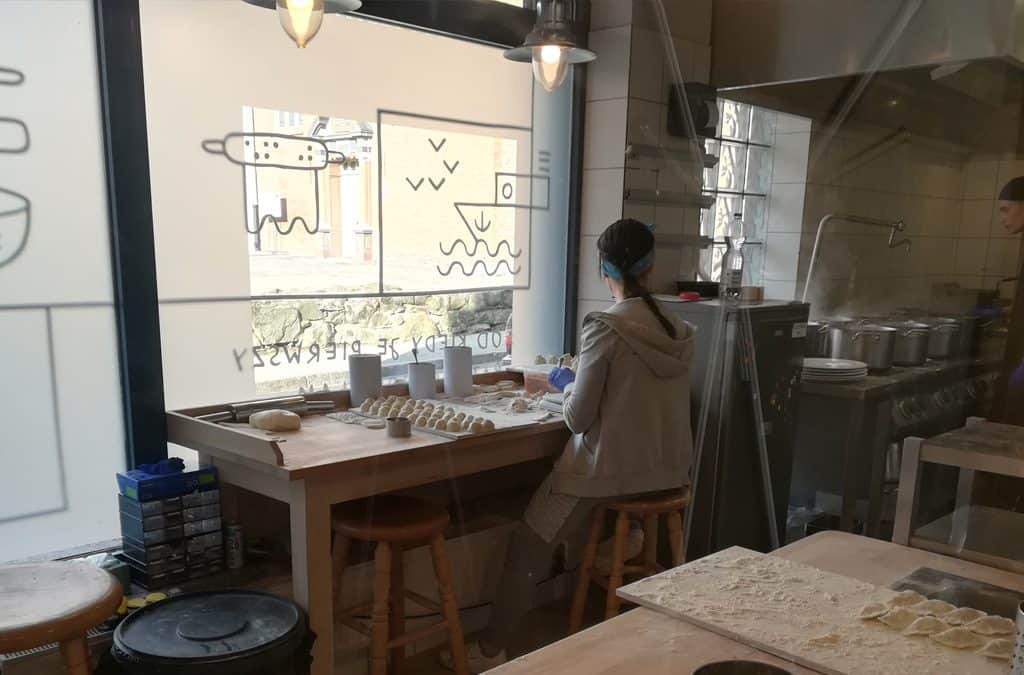 For those without a plan, it can be quite a task for visitors to navigate their way through Mandu's scrumptiously enticing menu.
Mandu covers all the bases. Fillings for the traditional boiled pierogi range from hand-minced wild boar meat finished with creamy mushroom sauce, to hand-made salmon paste with sundried tomatoes and creamy cheese served with dill sauce and butter on top.
Got a sweet tooth? No worries. There are chocolate pierogi with oreo served with sweet cream, as well as raspberries and white chocolate on a chocolate cake with cream sauce. What about pierogi packed with blueberries and served with sour cream?
There are also pierogi from different parts of the world, as well as several vegetarian and vegan-friendly options. Vegans might be tempted by the pierogi with carrot and peanut butter served with fried onion.
Pierogarnia Mandu's menu has the variety to satisfy everyone's palate.
Baked pierogi heaven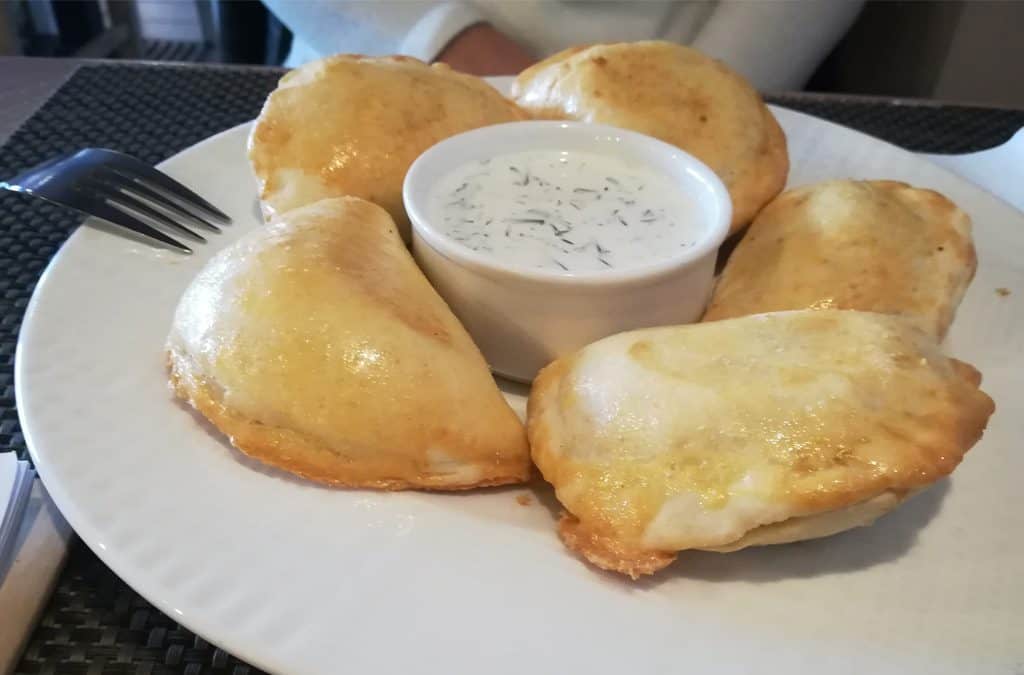 When my wife and I visited Łódź in early 2019, we both tried baked pierogi for the very first time at a restaurant called Pozytyvka. I was completely blown away.
In my view, eating baked pierogi is a whole other eating experience compared to eating traditional boiled pierogi. Fried pierogi are great, but they don't come close to the baked version either. Therefore, my wife and I had nothing else in mind but to attack the "Dumplings from light yeast dough from the oven" section of Pierogarnia Mandu's menu.
It did not take us long to plump for the following choices:
● Bamboo shoots, mun mushrooms, carrots, cabbage, peppers, onions, leek, pineapple and fried chicken*
● Beef prepared with thousand island sauce with cheddar cheese, red onion and pickled cucumber
I am not surprised that the "bamboo shoots" option comes first in the baked pierogi section. Visitors will be drawn to it due to the sheer number of ingredients included. Honestly, the combination of flavours did not leave us disappointed. The beef pierogi were also tasty, but I would go for the chicken ones every time.
You can choose from one of the following sauces to accompany your baked pierogi at Mandu:
cranberry
garlic
dill
honey-mustard
chilli with basil
sour cream
Thousand island
ranch
We went for dill and cranberry. Dill goes with just about anything, and we found it complemented the chicken pierogi very well indeed.
In case you're wondering whether five baked pierogi are enough, they certainly will be. Both my wife and I felt full after eating four.
To round things off, the kind waitress packed up the two pierogi we didn't eat, thus solving our supper conundrum that day.
* As of July 2023, the bamboo shoots and mushrooms option is currently off the menu
Service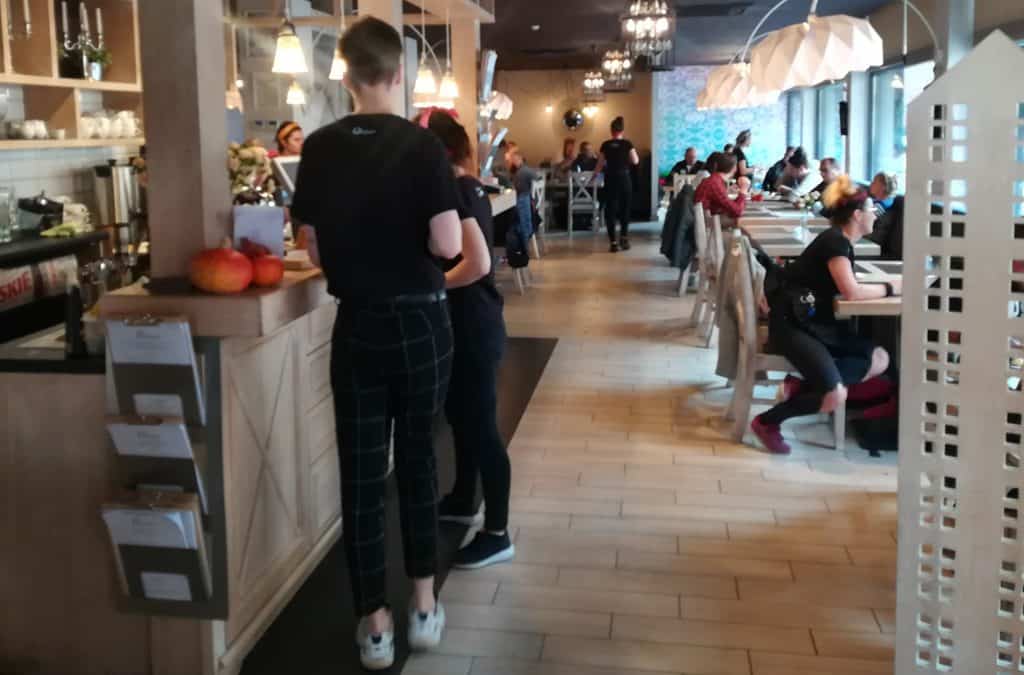 Despite the crowds, everything appeared to be under control. Most of the members of staff are young females in their late teens or early twenties. They all appeared to be eager, helpful and well-trained. We had a cracking little waitress who spoke very good English.
Atmosphere
Two words – warm and homely.
Pierogarnia Mandu is always full at lunchtime. They could probably fit another twenty people into the restaurant if they wanted to. Nevertheless, the layout of the tables enables you to sit and have a meal in relative peace without other people gawping at you.
Where can you find Pierogarnia Mandu in Gdańsk?
Pierogarnia Mandu has two locations in Gdańsk:
Location 1 – City centre
Pierogarnia Mandu Gdańsk Głowny
ul. Elżbietańska 4/8
80-894 Gdansk
Hours: MONDAY-SUNDAY – 11-22
Tel. for reservations: +48 58 300 00 00
Location 2 – Oliwa
Pierogarnia Mandu Gdańsk Oliwa
ul. Kaprów 19D (entrance from Obrońców Westerplatte Street)
Hours: MONDAY-SUNDAY – 11-22
Tel. for reservations: +48 58 340 55 44