Renata Oruba and Stanisław Franczak – friends, colleagues and Polish architects with tremendous passion for their field.
After spending several years honing their skills in design offices in southern Poland, Mrs Oruba and Mr Franczak founded their studio OF architekci in 2011.
In recent years, they have completed conceptual, construction and executive architectural projects in the following areas: 
residential – single and multi-family

public utility buildings

commercial and service buildings
Mrs Oruba and Mr Franczak carry out projects for private investors, state institutions as well as development companies.
I caught up with the two architects to talk about their preferred architectural styles, most admired Polish architects and their favourite architectural treasures in Kraków, among many other topics.
What a fascinating hour of my time it was. 
Let's dive in to see what these architectural masters had to say:
Can you remember the moment you decided that you wanted to become an architect?
Mrs Oruba

:
❝ I think it was in high school. Frankly, I didn't know what I wanted to do with my life. I had very little knowledge about the architecture profession and had to rely on books. These days, you can 'visit' all famous buildings on Google maps! But these books still fascinated me.
Mr Franczak

:
❝ It was a process that led to me studying architecture. I always liked drawing and art. When I was a child, I liked browsing architecture magazines. 

Drawing and arranging apartments was another passion of mine. In fact, I often drew these apartments during my lessons in primary school. I would sit there, lost in my own world and just imagine and sketch plans for apartments and houses. These drawings are stashed away somewhere in my house. 

I knew that I wanted to do something related to art. As my teenage years passed, I guess that everything naturally fell into place for me and I began to drift towards architecture. 
Which eras and architectural styles, for example, gothic, classical, modern and renaissance, interest you the most, and why?
Mrs Oruba

:
❝ Modern architecture is closest to my heart. I guess that part of it is due to the fact that the materials that are used in construction are genuinely seen in their real and raw form post-construction. When a certain kind of material, like plastic, resembles another kind of material, such as brick, it's too artificial for my liking. 

As for gothic architecture, I like these monuments but the past is the past. I can only admire but not follow these forms. 
Mr Franczak

:
❝ Personally, I prefer modernist architecture which emerged at the beginning of the twentieth century. Its roots date back to classical antiquity architecture. For me, simple white forms are the most beautiful buildings. I like to see lots of glass as well. These are timeless forms that will always be beautiful.  

The pioneer of modernism was the Swiss architect, Le Corbusier.* I admire his buildings, such as the Villa Savoye near Paris.** He also designed an amazing Roman Catholic chapel – the Chapelle Notre-Dame du Haut in Ronchamp.
*

Le Corbusier

– Charles-Édouard Jeanneret, known as Le Corbusier, was a Swiss-French architect, designer, painter, urban planner and writer. He was one of the pioneers of what is now regarded as modern architecture
**

Villa Savoye

– Completed in 1931, Villa Savoye is a modernist villa in Poissy, on the outskirts of Paris
Past and present, which Polish architects do you admire the most?
Mrs Oruba

:
❝ A lot of famous Polish architects studied at the same university as me, and I know some of them personally.

For example, I admire Robert Konieczny, who established the international architectural studio KWK Promes. I also follow the Medusa Group and their owners Łukasz Zagała and Przemo Łukasik. Łukasz Zagała was one of my tutors at university. There's another studio I like – Konior – based in Katowice. 

I should also mention my friends from university – Marta Dyrda and Radek Fikus of Studio Baba. They're extremely talented architects.
Mr Franczak

:
❝ There are many talented architects in Poland because we have very good universities. I often check out what's happening at the Faculty of Architecture at Poznań University of Technology because I studied there. Looking at examples of students' work, I see how many talented people we have in Poland in this profession.

Today, I think that the most recognisable Polish architect is Robert Konieczny. He's from Silesia. Lately, I read that his designs appeared at the Moving Architecture exhibition in Paris. For me, his most impressive project is Quadrant House. He designed a house with a moving terrace that's permanently in the shade because it follows the location of the sun. It's a simple and relaxing living space with very many windows. The building represents a high level of architecture on a global scale.
Kraków is a city close to your heart. Describe some of the finest pieces of historic and modern architecture in the city.
Mrs Oruba

:
❝ The Main Square and Grodzka Street, which leads to Wawel Castle Hill, contain so many monuments and buildings which are in excellent condition. St Mary's church, on the Main Square, is particularly beautiful.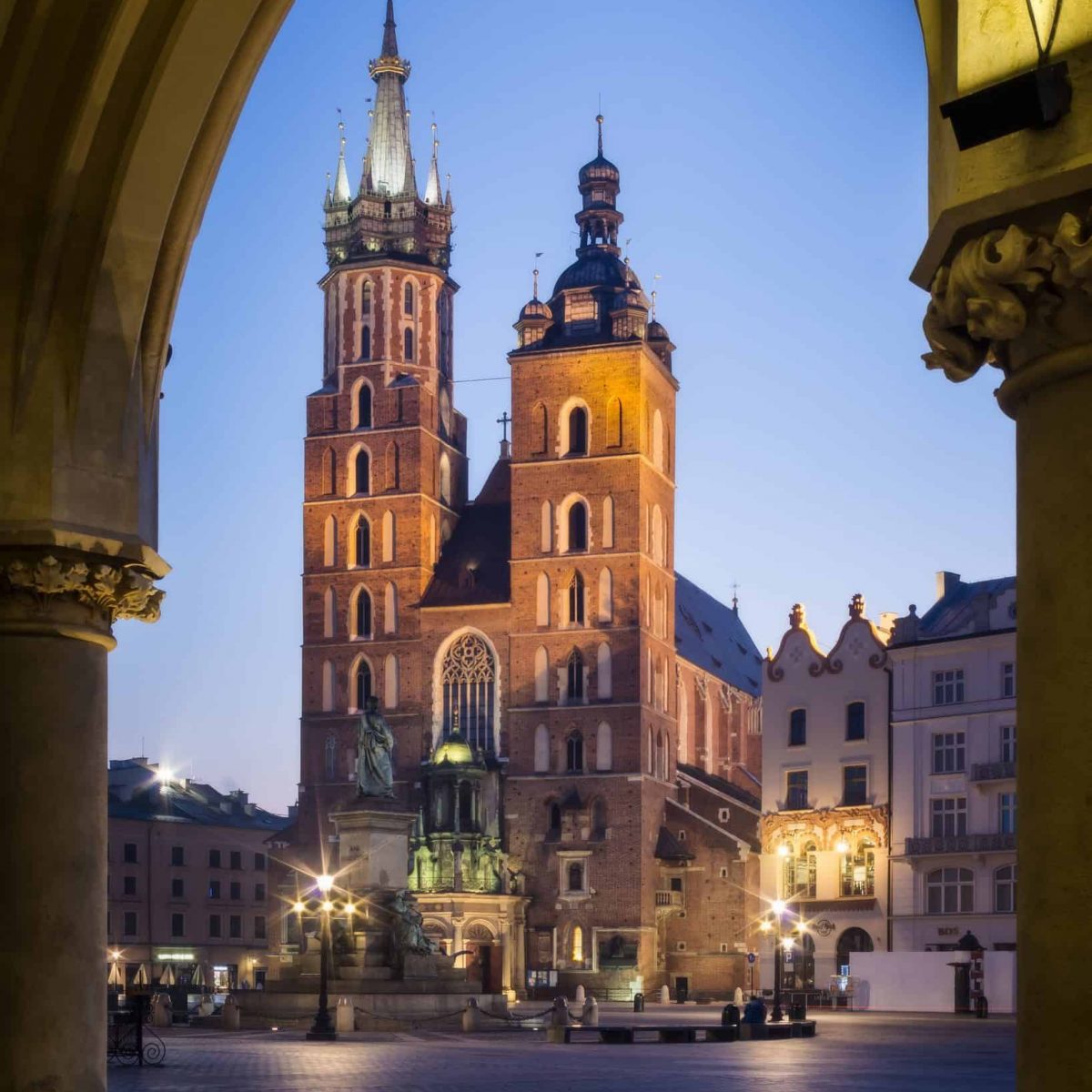 In terms of modern architecture, Staszek and I spoke about a small square near Galeria Krakowska – Plac Jana Nowaka-Jeziorańskiego*. We remember this place twenty years ago when it was a huge mess. It's changed so much. There's some wonderful urban architecture to be found there.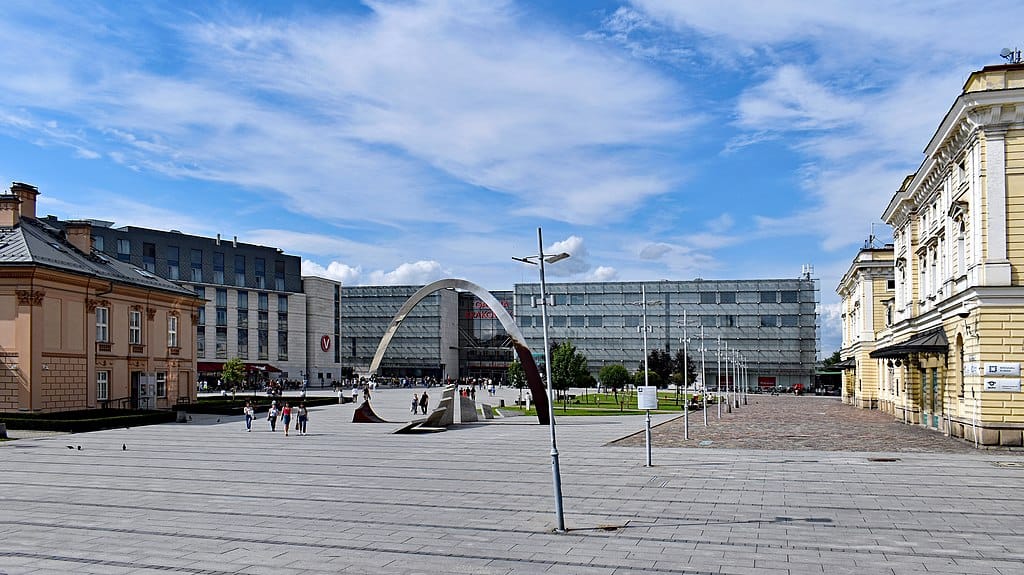 I also like the tourist information point – Wyspiański Pavilion** – on Grodzka Street. This building was designed in a very narrow and compact space and has a decorative facade with special brick tiles fixed on metal bars. The building really stands out, in a positive way, and the designers made use of the space very well.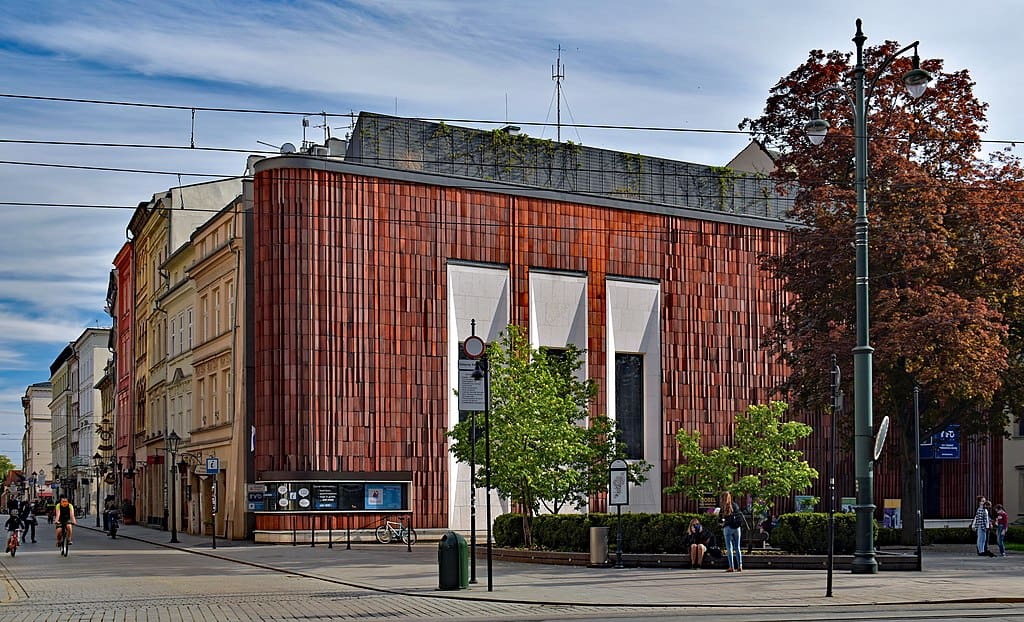 Then there's Cricoteka*** – an extremely symbolic and mysterious building with a very intriguing shape. Cricoteka is connected with the lifestyle and paintings of Tadeusz Kantor****.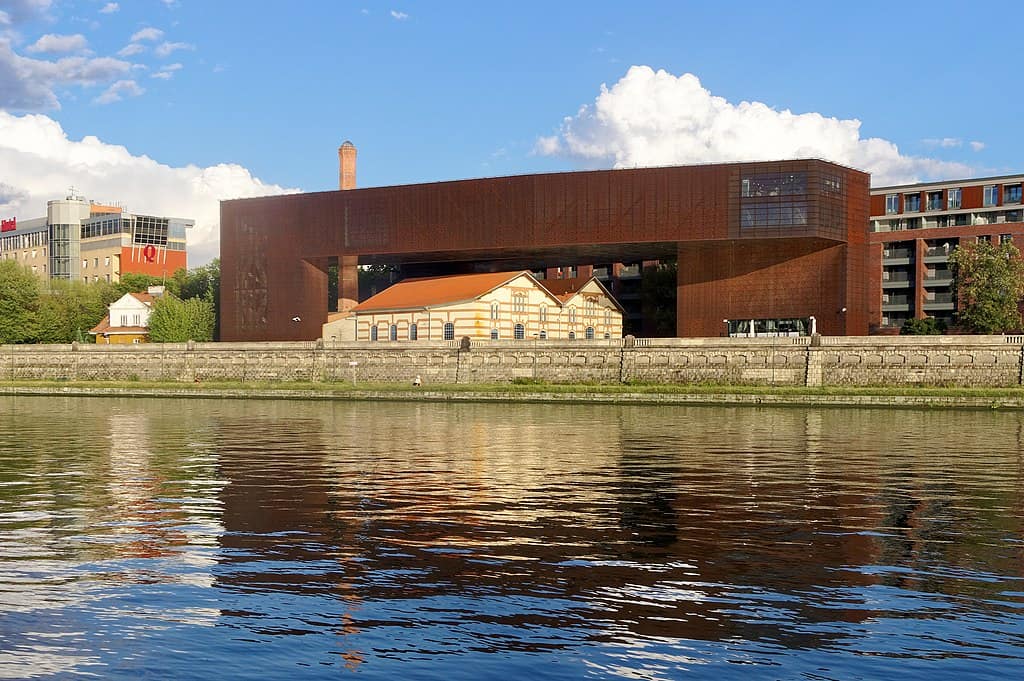 * Plac Jana Nowaka-Jeziorańskiego – This square leading to the main train station was formerly known simply as Plac Dworcowy – Station Square. It was also the long-distance bus station. In 2005, the new bus station opened on the other side of the train tracks; while Galeria Krakowska shopping mall was completed a year later. The square was renamed in reverence of Polish politician, journalist, WWII emissary and war hero Jan Nowak-Jeziorański. In 2018, a monument honouring Polish Army colonel Ryszard Kukliński – who was a spy for the CIA throughout the Cold War period – was unveiled on the square in the form of a fractured arch
** Wyspiański Pavilion – Opened in 2007 as part of Kraków's 750th jubilee, Wyspiański Pavilion is a unique piece of modern architecture. It boasts stunning stained-glass windows designed by the Cracovian artist Stanisław Wyspiański
*** Cricoteka – The Centre for Documentation of the Art of Tadeusz Kantor. Cricoteka was built on the premises of the historic Podgórze Power Plant. This multi-functional facility was created by combining the historic buildings of the former power plant with a modern gallery which reaches over 20 meters in height above the plant. The underside of the gallery boasts a mirror-like surface that reflects the roofs of the power plant buildings as well as the striking square around them
**** Tadeusz Kantor – Born in 1915, Tadeusz Kantor was a Polish painter, among many other pursuits. Between 1934 and 1939, he studied at the Academy of Fine Arts in Kraków.
Mr Franczak

:
❝ I really love visiting the Old Town of Kraków with its narrow streets and squares. However, many spots in the city represent sad historical moments. Every time I drive past the Ghetto Heroes Square*, I think about those people survived the horrors of Nazi exterminations. 

Some of the most interesting modern buildings in Kraków include The Małopolska Garden of Arts** and Cricoteka. 

Cricoteka not only exudes amazing modern architecture, but it's also an important cultural centre in the city. As for the Małopolska Garden of Arts, this is really high level architecture.
For me, the most beautiful piece of modern architecture is the Manggha Centre**. It's a museum that gathers paintings inspired by Japanese art. The building looks wonderful in its riverside location.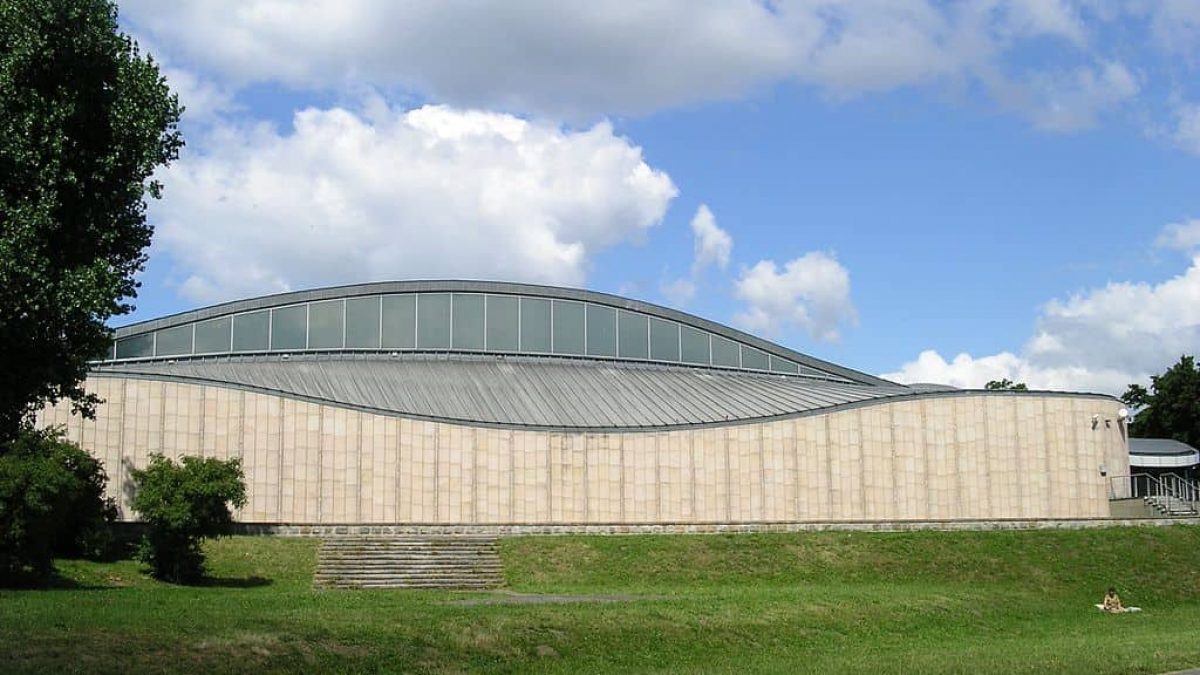 * The Małopolska Garden of Arts – a cultural institution which was created in order to cater for various fields of modern art. An area of roughly 4300 sq.m houses a theatre together with a cosy cinema with 98 seats, a café, and premises for the organisation of educational, art-related activities
** Manggha Centre – The full name of this centre is the Manggha Museum of Japanese Art and Technology. Principally, the museum collection is based on the works gathered by the writer and collector Feliks Jasieński (1861–1929). In 1920, Jasieński donated his collection to the Kraków National Museum
Can you describe a project which you are most proud of completing?
Mr Franczak

:
❝ It's not easy to describe such a project because we've done a lot of different projects. We've designed apartment blocks, hospitals, schools and ski lifts. Each project is different. 

Perhaps the biggest accomplishment connected with the completion of a project is navigating our way through Polish bureaucracy and getting a building permit. 

I really like designing apartment blocks because it's quite easy work for me. 
Can you describe some of the most difficult moments you've had in your career as an architect?
Mr Franczak

:
❝ I've worked in many places. Most architects find it difficult to work in large corporations because it feels like you're in a factory. I worked in such a company where I didn't develop my skills in any way whatsoever. It still hurts me to say that I took a huge step backwards working there. I realised that I couldn't stay there any longer.
It was interesting to read a little bit about the Architecture Department of the Silesian Polytechnic in Gliwice. The school is reputed to educate some of the most talented young Polish architects. 
First of all, would you agree that many of the best Polish talents in your field come from Silesia?
Secondly, what characteristics does Silesia possess to make it an attractive place for architects to work?
Mrs Oruba

:
❝ I'm not too sure what the situation is at the Silesian Polytechnic in Gliwice now, but I can comment on my own experience studying there twenty years ago.

My teachers were very famous architects. I could pick up any architecture magazine and read about my teachers or see pictures of their work. These architects include Jan Kubec, Przemo Łukasik and Łukasz Zagała. Robert Konieczny didn't teach at the Polytechnic but he'd often visit our department.

The success of the Architecture Department is probably down to the teaching programme. In the first year, I designed projects by myself. After, in the fourth and fifth years, we did many projects in groups. The department got the balance between individual and group work just right, with slightly more emphasis given to developing our teamwork skills. 

Going back to the teachers, they're not only academic lecturers but they also have their own design offices. They entered many international architecture competitions. My department wasn't so big – only around seventy students per year. Our teachers would pick out the most talented students and invite them to prepare project ideas for these competitions, which, by the way, a team from our department would often win. All in all, being able to cooperate with teachers to prepare projects for competitions was an incredible learning experience for these young Polish architects. 

A lot of my friends were born in Silesia. They've been able to see close-up many examples of very good architecture, designed by, for example, Buszko and Franta.* It's a different story – but Buszko and Franta had similar ideas to Le Corbusier. In fact, Buszko and Franta practically built the whole of Katowice, perhaps most famously Osiedle Tysiąclecia** and the 'Kukurydze' skyscrapers***. They also built Superjednostka****. This building was in the spirit of modern architecture and Le Corbusier's designs.

Overall, young architects from Silesia have a wholly different perspective of architecture than people from small cities and towns. A lot of buildings in Silesia are evidently German-influenced with straight rectangular buildings and a lot of detail. I can also mention the Giszowiec***** and Nikiszowiec****** districts – both of which contain elements of English architecture – with this notion of the 'garden city' or 'garden village'.
* Buszko and Franta – Henryk Buszko i Aleksander Franta – This duo of architects played a significant role in creating the progressive face of the post-war development of Poland
** Osiedle Tysiąclecia – the 'Millennial District' in the northern part of Katowice. The construction of the district began in 1961. Hence, the name 'Millennial District' was chosen because 1961 was the 1000th anniversary of the founding of Poland
*** "Kukurydze" – These residential skyscrapers, located in the Millennial District in Katowice, boast characteristic point-like spots resembling corn hobs due to the circular shape of the balconies. The corn hob shape is particularly striking when seen from above. There are a total of five buildings, of which three are 82 metres high
**** Superjednostka – Superjednostka is literally translated as "Superunit". An example of brutalist architecture, Superjednostka is one of the largest multi-storey residential buildings in Poland.
***** Giszowiec – Established in 1907 in eastern Katowice, Giszowiec was established as a "garden village" for the city's miners.
****** Nikiszowiec – The Nikiszowiec settlement was constructed on the eastern fringes of Katowice between 1908 and 1912
Are you a fan of the more surreal side of Polish architecture? Krzywy Domek (crooked house) in Sopot is perhaps the most well-known 'surreal' building in Poland. 
Mr Franczak

:
❝ Personally, I'm not a fan of surreal architecture – wherever it may be – except in amusement parks. There's a time and a place for such buildings and art forms. 

I don't like this kind of architecture because it's too dynamic and characteristic. 

Krzywy Domek is more of a symbol in Sopot – a symbol of the modern world – which caters to tourists. Despite my general dislike of such architecture, I still wanted to see this building when I was in Sopot.

It's a similar situation with the Fred and Ginger building in Prague. It's another example of deconstructivism*. I simply don't feel good when I see this kind of architecture.
*  Deconstructivism – a movement belonging to contemporary architecture, and was developed to oppose the ordered rationality of modernism
Mrs Oruba

:
❝ I don't want to criticise the architects of specific buildings because we don't know the background as to why they designed these buildings in such a "surreal" way.

Generally speaking, there are some buildings which are too expressive for my liking. I don't like the shape of them. On the other hand, we should credit architects for designing buildings which are instantly recognisable. When a building becomes famous, it's a success in itself for an architect, regardless of the building's shape.

Personally, however, I like straight, normal forms.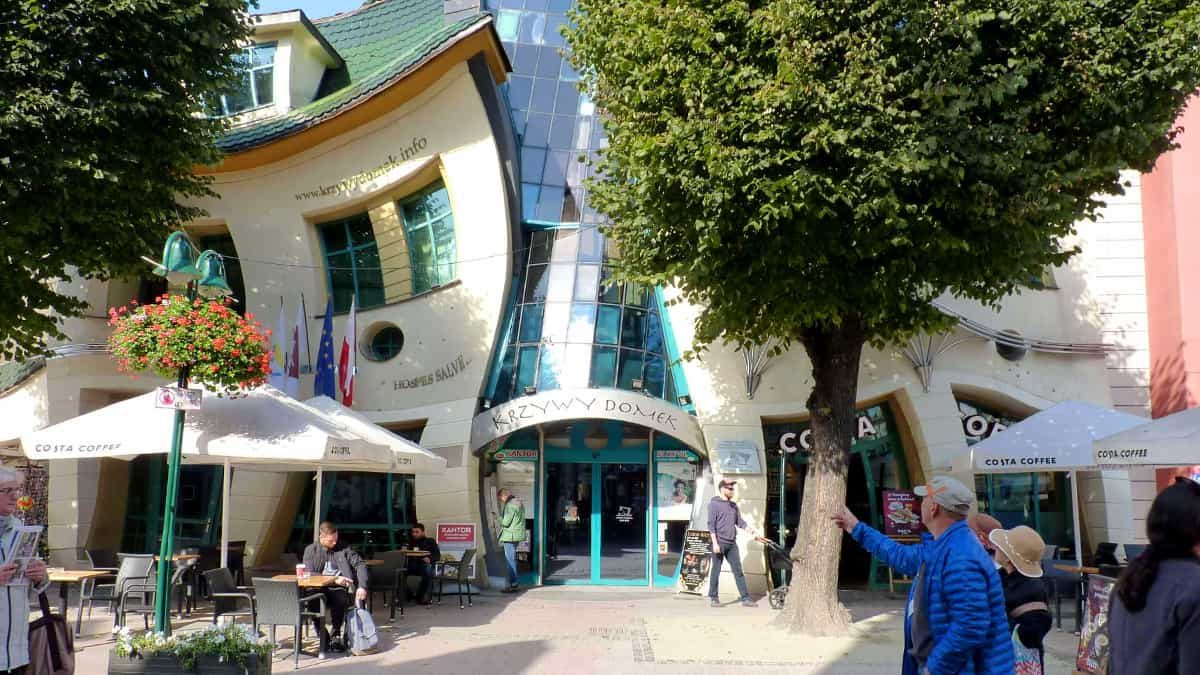 I recently came across pictures of the world's narrowest house – Keret House in Warsaw designed by Jakub Szczesny. The owner of the house, Etgar Keret, said that staying at the Keret House is like a "memorial to my family". Sadly, Keret's parents' families died in the Second World War when Nazi Germany occupied Poland. His parents survived the war. 
Szszesny had a vision and turned it into a reality. Indeed, while sitting in a nearby cafe, he saw a dark crevice between two buildings on the other side of the street. 
What do you think about this project?
Mr Franczak

:
❝ Keret House is an art installation – related to a global tragedy – rather than a conventional house. I must say that I prefer these kinds of monuments rather than the typical marble or metal monuments that are usually dedicated to the memory of those deceased in such tragedies. 

It can be a worthwhile experience for an architect to create a project in such a small space because you can learn a lot. 

Of course, it's not easy to execute such a project because it's very limited by the law.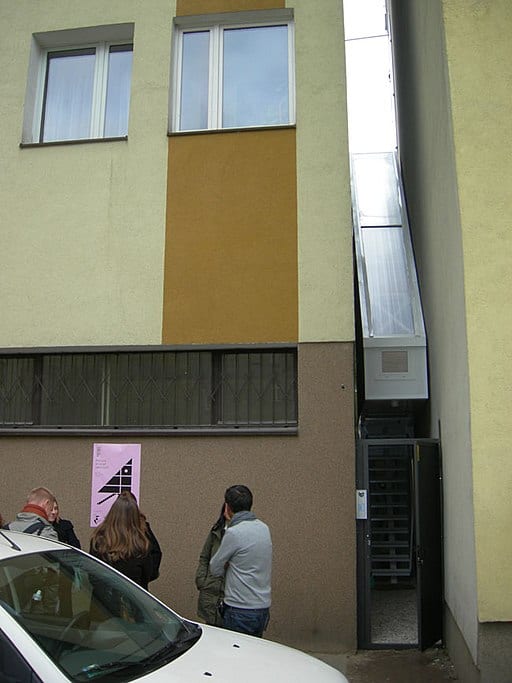 If you could pass on one pearl of wisdom to graduate Polish architects, what would it be? 
Mr Franczak

:
❝ My wish for these graduates is that the freedom of design that they picked up in their studies will stay in their heads forever. After graduating, architects come into contact with reality. They find that they're limited by regulations and that it's often difficult to implement their own ideas. However, they should never lose this freedom when it comes to drawing.
Do graduate architects have many prospects in Poland? What is your advice for them?
Mrs Oruba

:
❝ Right now, I think it's a very good time to find a job as an architect in Poland.

There are a lot of excellent design offices where young Polish architects can learn from the best. Architects who've just graduated, and don't have the fortune of being born into a family of architects, need to hone their skills in a design office for a few years. 

In terms of my advice for graduate Polish architects, they should try to distance themselves as much as possible from more experienced architects – their bosses – who might "kill" their creativity and passion for architecture. 

These young architects need to constantly think about their own self-improvement because it's very easy to get wrapped up in drawing and realising other people's projects in design offices where there's little room for creativity and self-development.

These graduate architects have a lot of good ideas. As they're practising, they're not restricted by the limitations of Polish construction law. The freedom they have is so precious and shouldn't be taken away from them. 

Our profession needs some "crazy" ideas which perhaps challenge architectural norms. Some architects might think it's reasonable to design the same old tried and tested building forms within their comfort zones. It shouldn't be like this. We should be spontaneous in our designing and still develop our skills in many different ways. 

Sometimes, architects are not just architects. They're artists, musicians, sculptors or graphic designers. Our work and capabilities can cover many different fields. For instance, my friend from university – Kamil Łabanowicz – is a car designer for Audi. My point is – we should not take away the freshness and zest for designing that graduate architects have. If we let them follow their dreams, our world will be a better place for it.
How do you plan to expand your business and broaden your own horizons in the next five years? 
Mr Franczak

:
❝ It's not an easy question to answer because this profession can be very unpredictable. A lot depends on a company's location and access to clients. It's always possible to take on smaller projects and it's enough to earn a living doing this. 
Mrs Oruba

:
❝ This profession continues to surprise me every day. It's very difficult to predict what will happen in the coming years. For instance, when COVID came, Staszek and I thought that our branch would have to close for a few years. However, it was the exact opposite of this – a mini building boom took off and we had a lot of work. Right now, the prices of building materials are very high. Maybe investors will stop for a while and there'll be a slowdown in construction.

Finally, the way architects work is changing. Many people work from home now. I know of a few companies in Kraków which actually closed down their offices.
Polish architects helping to shape the world we live in
Renata Oruba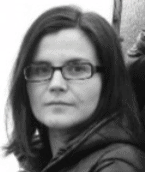 Renata Oruba studied Architecture and Urban Planning at the Silesian Polytechnic in Gliwice. 
Mrs Oruba worked for several design studios in Nowy Sącz before setting up her own studio in Gorlice.
Stanisław Franczak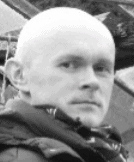 Stanisław Franczak studied Architecture and Urban Planning at the Poznań University of Technology. 
Mr Franczak worked as an assistant architect for several design offices in the south of Poland after graduating. He's been based in the small town of Muszyna since 2011.