After a long walk in Piaski on the Polish-Russian border, my wife and I drove back along the Vistula Spit to soak up the attractions in Krynica Morska.
Parking up at a huge parking lot close to the Municipal Tourist Information Centre, I didn't quite know what to expect from Krynica Morska. After the beautiful serenity I'd encountered in Piaski, my expectations were rather high.
We started our walk at Portowa Street, just opposite the Tourist Information centre. Our intention was to stroll through the town and end up at the beach. 
The sheer array of restaurants, taverns, ice cream shops and souvenir shops reminded me of some of the British seaside resorts I so often visited as a child.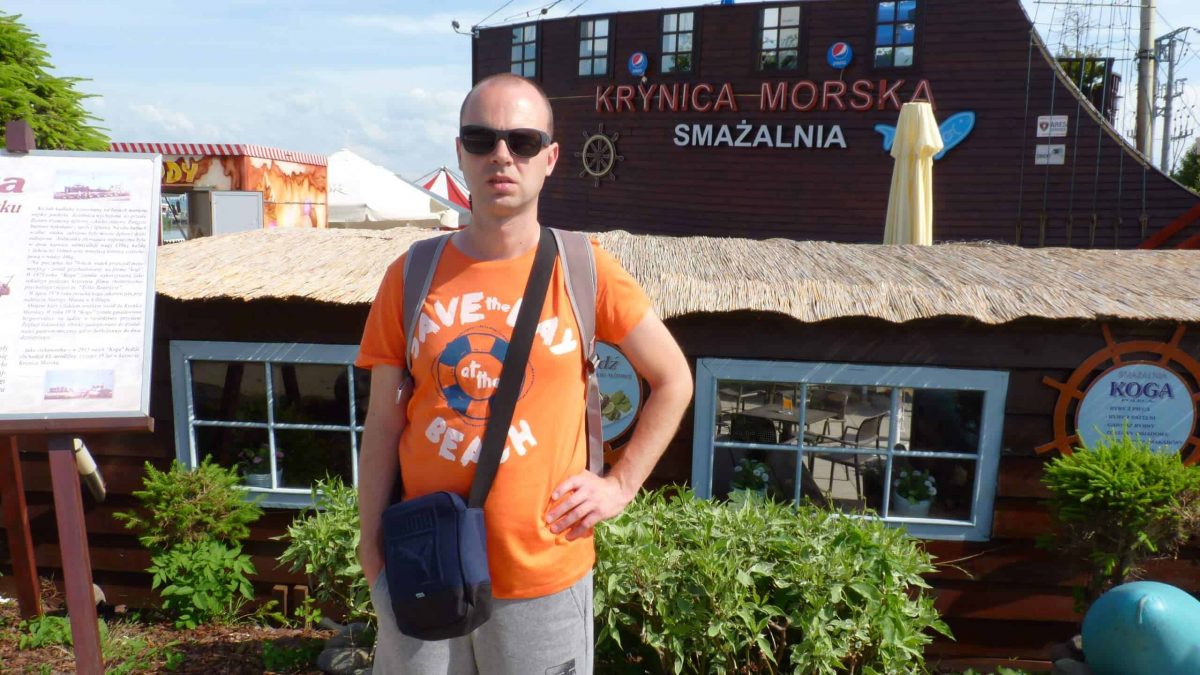 Rope Park
Just five minutes into our walk, we stumbled across one of the most adrenaline-inducing attractions in Krynica Morska – the "Rope Park" (Park linowy Zegarowscy).
With six routes of varying intensities, the rope park provides endless fun for children, families, individual clients and organized groups. Professional instructors are available to train participants.
Krynica Morska beach
Onwards we strolled along Portowa Street, hooking a right onto Janusza Korczaka Street 200 metres up the hill.
We eventually wound up at entrance 24 to the beach (Plaża publiczna wejście 24).
Desperate to quench our thirst, we drank some freshly squeezed orange juice in Pelican Seafood & Bar. We didn't try any food. All in all, a cosy little restaurant right by the beach. 
Emerging refreshed from Pelican, we sat on the beach for a while. What to say?  Like all beaches in the region, it seems there's not much to complain about. The beach is wide and very clean, with excellent facilities.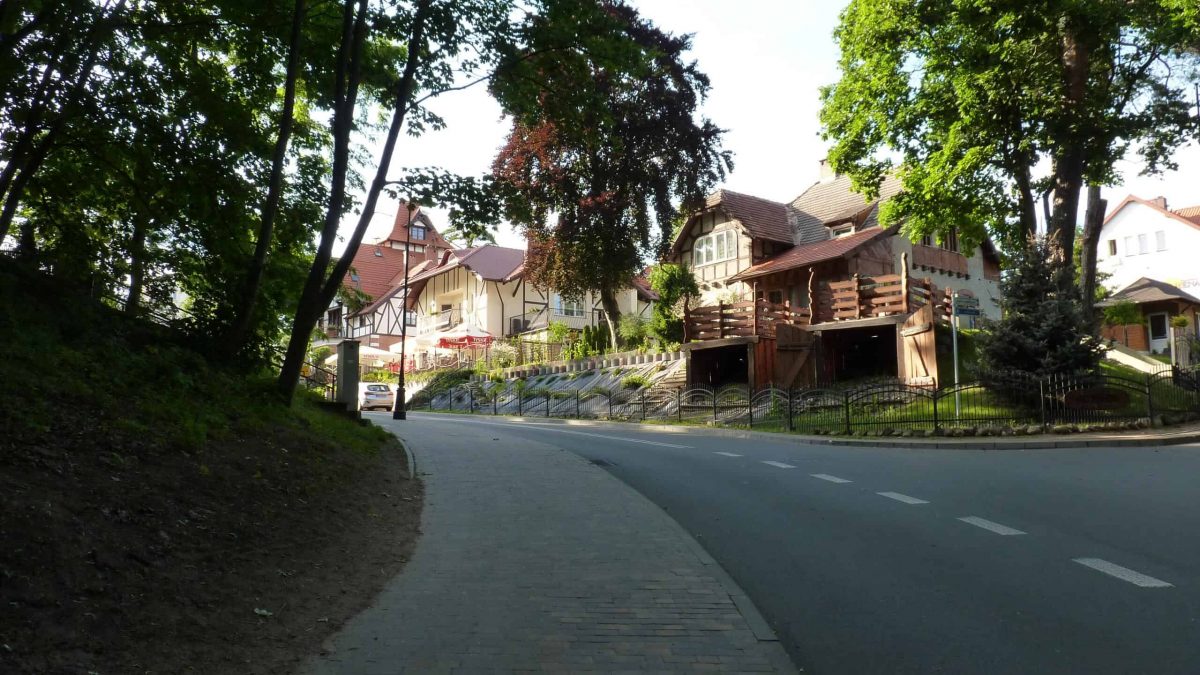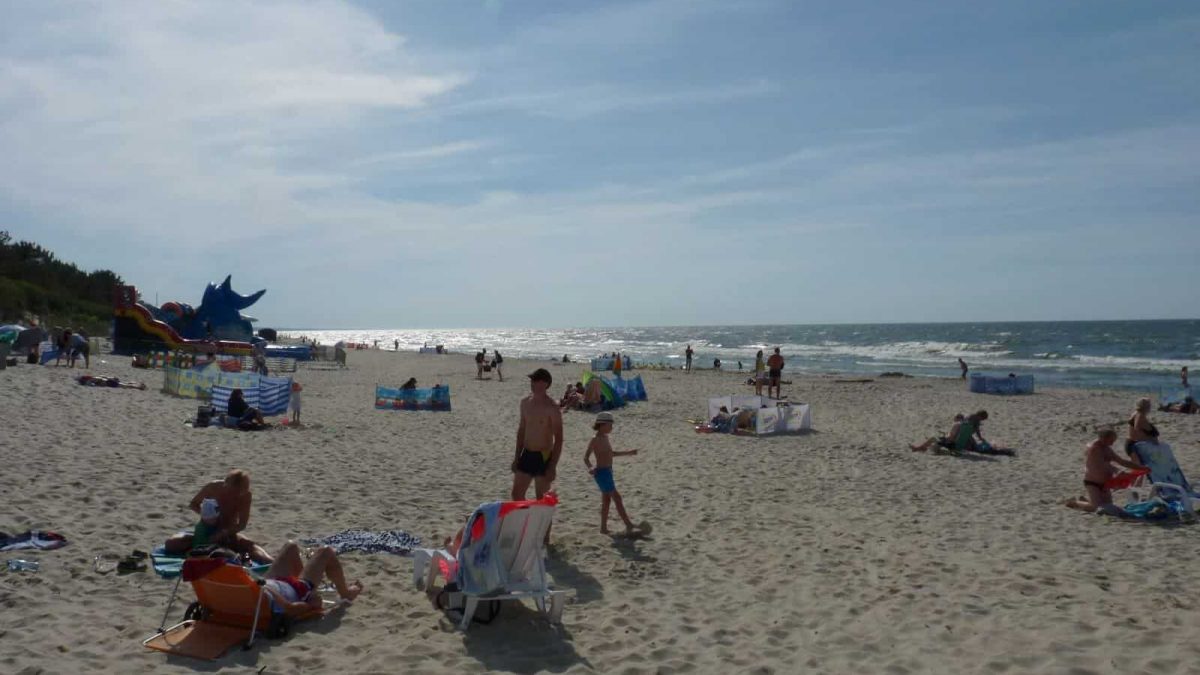 Krynica Morska Lighthouse
One of the main attractions in Krynica Morska is its lighthouse. The original building was constructed in 1895. However, that was mined 1945 by retreating German forces. Many Soviet soldiers died in the explosion. There is a small cemetery with a monument to the fallen soldiers near the lighthouse.
A new lighthouse was built in 1951.
As you can see from the video and pictures below, the views from the top of the lighthouse are stunning. 
Krynica Morska Pier and Port
From the beach, we walked back to the other side of the spit to have a stroll around the port and down the pier. 
The pier is wide with pleasant views across the Vistula Lagoon. It's a wonderful place for relaxation.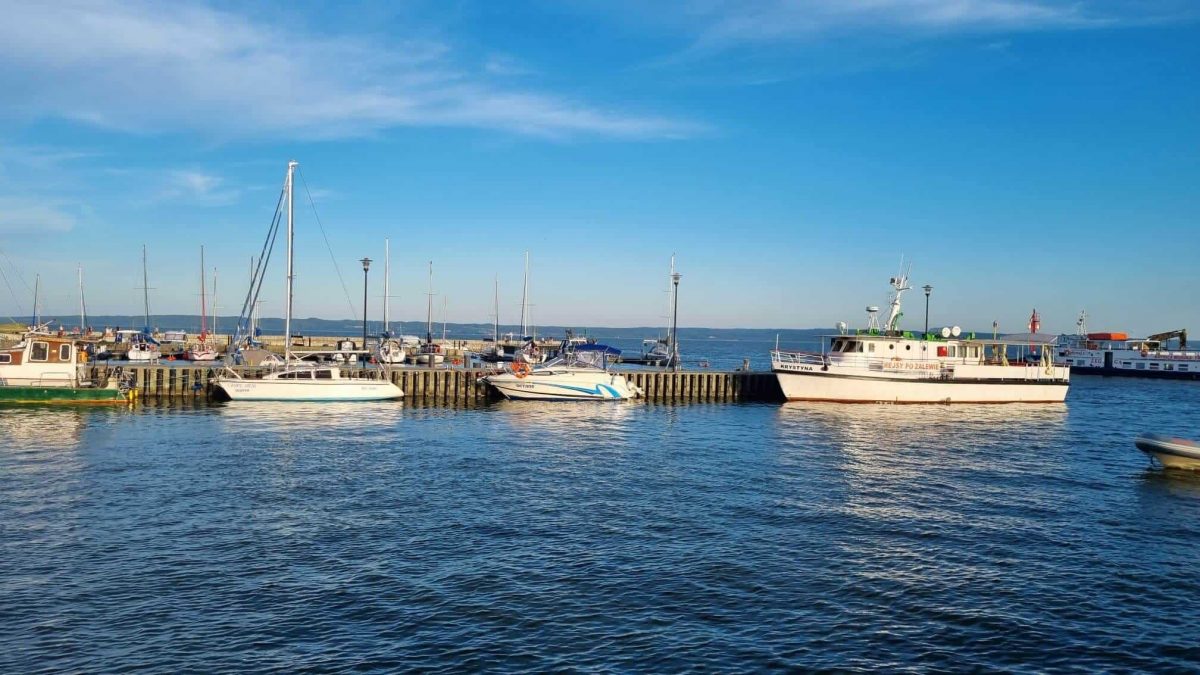 A brief history of Krynica Morska
In 1840, the development of Krynica Morska as a seaside resort began. Five wealthy merchants from Elbląg formed a shipping consortium on the Vistula Lagoon. They purchased two steamboats in England called the "Sokół" (Falcon) and the "Jaskółka" (Swallow). A year later,  the "Jaskółka" brought the first holidaymakers to Łysica (the former name of Krynica Morska)

Encouraged by the successful trips to Łysica, the shipping consortium bought five acres of land from the Gdańsk authorities. Two years later, the construction of the first villa in the shape of a Greek temple began

Later on, the same consortium bought 218 acres of land, mainly forest area. The bathing area was further expanded, and villages and holiday homes began to appear. Cabins for bathers were also built on the beach

In 1905, a large pier was built. New guesthouses and villas continued to crop up

After the Second World War, Łysica struggled to regain its status as a charming seaside resort. It mostly operated as a fishing settlement

In 1958, Łysica underwent a makeover. It obtained housing rights, established itself as a holiday resort and changed its name to Krynica Morska

On April 2, 1991, Krynica Morska obtained town rights

Krynica Morska has been a part of Nowy Dwór Gdański County since 1999