Jonny Blair – Northern Irishman in Poland. It has a ring to it. Jonny's been doing the rounds in Poland since his first visit in 2005. He's travelled to 181 countries, but decided to make Gdańsk his home after some "dreamy" walks around the Old Town. Who could blame him?
Prolific travel writer at northernirishmaninpoland.com, lover of Polish culture, visitor to Polish towns and villages off the beaten path and self-confessed "football geek". It's been an honour to catch up with Jonny … 
1. You've been to around 180 countries in the past 15 years and, like me, you first visited Poland in 2005. With Poland being one of the first countries you visited, did culture shock get the better of you all those years ago?
"When I checked back, yes it looks like Poland was one of the earlier countries on my journey, as it was the fifteenth country I visited. That was back in 2005 when I overlanded by train from Germany. I was with a lot of friends on that trip and was really not shocked culturally at all. In fact, on my first two trips here, I think I found a lot of things I liked in Poland. It feels like I belong here, in Slavic culture. There are so many positive aspects to the lifestyle here in Poland."
2. It seems that Gdańsk has swept both of us off our feet. In your view, what separates Gdańsk from other Polish cities? 
"Oh it is beautiful and you know what – my initial plan was to stay in Gdańsk for a mere four days and then move on. On the very first night, I took a dreamy walk down Ulica Długa and fell in love instantly. There is something magical about that city. It has the history of the wars, the division when it was known as "The Free City of Danzig", it is where Solidarność all began.
Gdańsk has beauty in every neighbourhood (Zaspa for art, Aniołki for its interesting housing, Brzeźno for the beach). Gdańsk has parks, beaches, castles, churches and a load of brilliant bars, cafes and restaurants that are pretty much unrivalled anywhere else in Poland and the world. I could spend endless days in the bars and cafes of Ulica Piwna and the nearby area. Some of my favourite bars and restaurants include Józef K (a writer's dream lair), Pyra Bar (amazing potato dishes), No to CYK (cheap communist themed pub!), Cafe Szafa (Wardrobe Cafe), Red Light Pub (great social hang out), Lookier Cafe (quirky cafe) and Kubicki (oldest restaurant in the city). Yep, I could gladly spend the rest of my life in Gdańsk."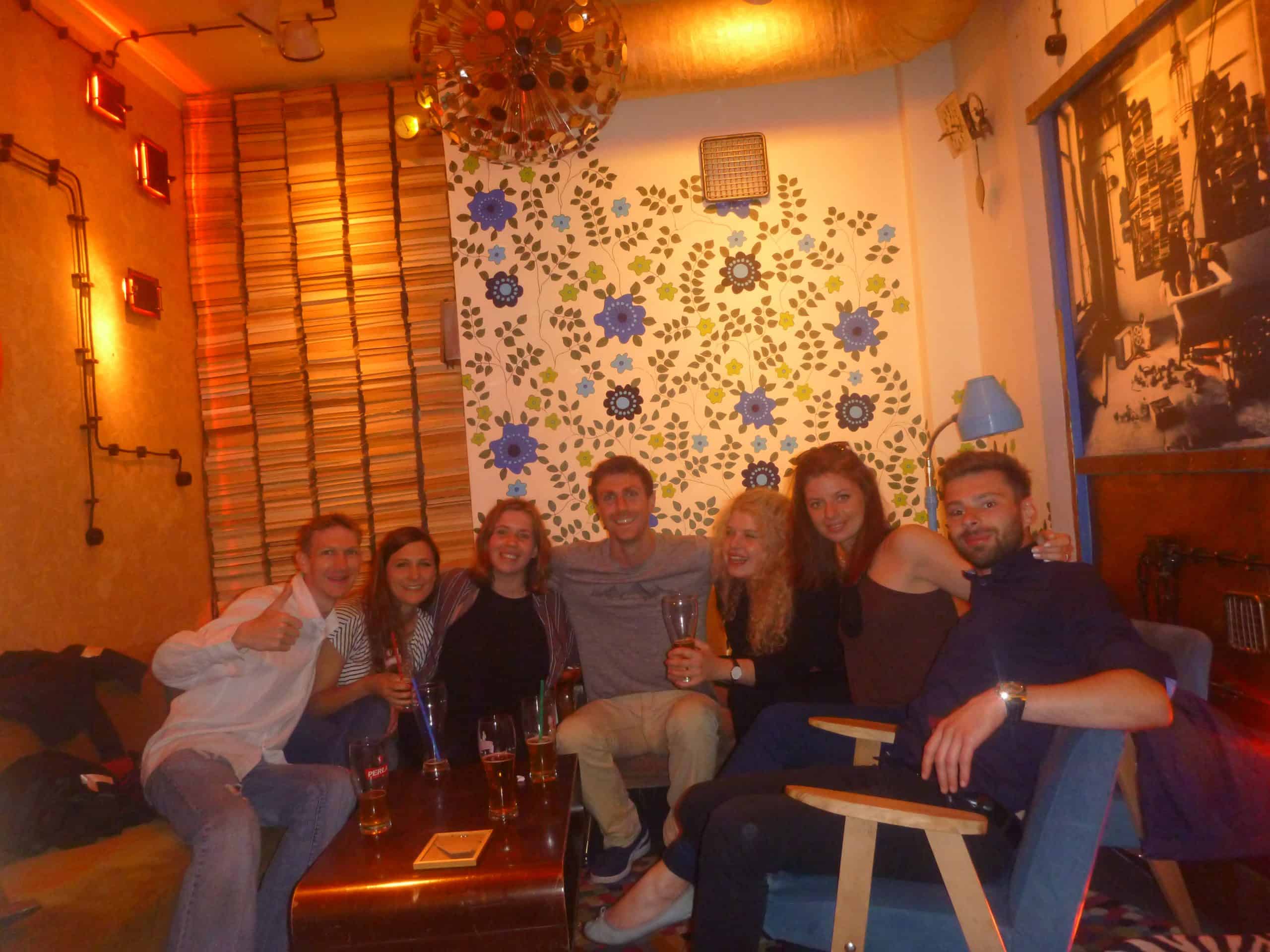 3. You love a good bar mleczny, and have tried your hand at Polish cooking. You've taken Polish classes and travelled to places off the beaten track. The list goes on. In terms of cultural immersion, is there much left to do for you in Poland? Presumably, you must have met foreigners here who did very little to immerse themselves into Polish culture, instead preferring to whinge about the weather, bureaucracy and the Sunday trading ban. How have you dealt with such people over the years?
"There is a lot left for me to do in Poland. In fact, I was bought a book as a present from my friend Aneta and it has 100 places in Poland to visit. I have only been to around 80 of those, so I still have a lot to see. Moreover, I have over 1000 unwritten blog posts. I will never run out of ideas here in Poland – so much still to be done.
I've met a lot of foreigners, but never any who complained about the weather – in fact I'd say that the four distinct seasons in Poland are a huge pull for people to live here. I certainly love that. But, yes, many foreigners (as well as locals) do complain about the government, the bureaucracy and the Sunday trading ban. My view on that is simple – I personally love it and don't complain about it. If I complain about it, I shouldn't live here. Immigrants like me are not here to CHANGE Poland, we are here because we love Poland as it is and don't want it to change. To quote my own quote: 
"Countries are not there to accommodate their visitors, they are there to accommodate those who ordinarily live there. Visitors need to fit in, not the other way around".
4. Browsing your site, I couldn't help but admire the lengths you go to when it comes to following Polish football, even attending matches in the Polish sixth and seventh divisions. Describe some of your fondest memories on some of your days out as a football fan. And have you ever seen much hooliganism in or around lower league stadiums?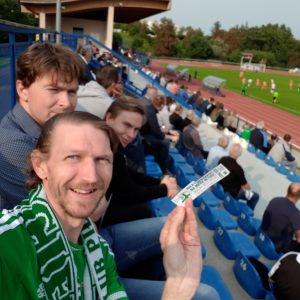 "I am a total football geek, I even have a series for it on my Polish based blog! I grew up supporting Glentoran FC in Belfast, watching my Dad play every week for local teams in Northern Ireland. Basically, I just love watching football and the level of it is not so important to me. I am a groundhopper. I've been to over 30 stadiums in Poland now, and watched many games in different divisions. Due to the fact that I slept in a hotel (Noclegi Rekord) in Starogard Gdański in 2016, and the home of the legendary Kazik Deyna, I decided to make Klub Piłkarski Starogard Gdański my team of choice. They play in green and white and I have been to quite a few of their matches so far. The club even featured me on their Facebook Page! I've also attended quite a few of Legia Warszawa matches. Legia have drawn with Rangers and Real Madrid in recent years in European competition.
My best two memories would be watching Klub Piłkarski Starogard Gdański beating GKS Przodkowo 1-0 in the Pomorskie Cup Final on a wet day in Malbork in 2016, and watching Legia Warszawa win the league in 2017. This was on a day when four teams could still take the title on the last day! (The others were Lechia Gdańsk, Lech Poznań and Jagiellonia Białystok). There was a big party in the Old Town and it also rained heavily that night. My Polish mates and I were drinking shots of flavoured vodka on the streets.
I try to avoid hooliganism and suchlike, though I have been on divided trains (in Jarosław) and part of the home end for Legia Warszawa. Clearly, there are flashpoints between fans, but the real football supporters are there for the match and the culture that comes with it – pre-match pints and chat.
5. Have any Polish cities, towns or tourist attractions failed to live up to your expectations?
Realistically no – I have been pretty positive about most of Poland. I am not a big fan of skiing though so perhaps the mountains are not high on my list, though I enjoyed Morskie Oko and Zakopane a lot. In my opinion, Kraków is wildly overrated, and Gdańsk is heavily underrated. But I quite like it like that – I prefer the cities that are less popular. I am probably a bit guilty of promoting much less celebrated places though, as I did with Gdynia, Tczew, Kętrzyn, Międzyzdroje, Starogard Gdański and Chotyniec.
Jonny on social media

:
http://www.twitter.com/jonnyblair/
https://www.facebook.com/northernirishmaninpoland/