Jezioro Długie (Long Lake) is one of those unique gems in an urban area.
Located in the western part of Olsztyn, Jezioro Długie is but a ten-minute walk from the Old Town.
Parking up on Rybaki Street, more or less parallel with the bridge that connects the two banks of the lake, I wasn't quite sure what to expect of Jezioro Długie. 
After all, my wife and I had been most overawed in previous days by the sunsets and unbelievable beauty at nearby Lake Ukiel, where our hotel was located. 
Fortunately, Długie did not leave us feeling disappointed.
Jezioro Długie – A must-visit location when in Olsztyn 
Jezioro Długie is the ultimate urban oasis. 
First of all, there's a wide and very well-kept path which runs around the lake. Approximately four kilometres long, hikers, nordic walkers, joggers, cyclists can't fail to be in their element here. 
Content with just walking on this gloriously sunny morning, the sun rays piercing through the trees would have been a sight to behold for both the unassuming visitor and the most demanding of photographers: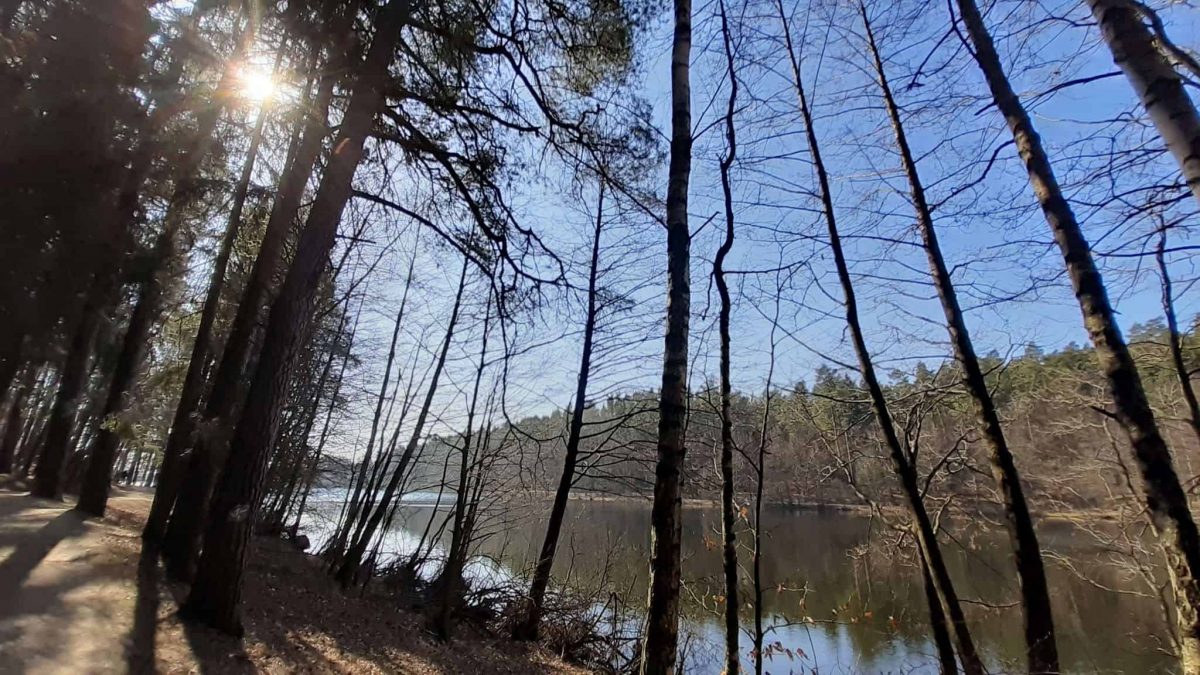 It's worth pointing out that visitors to the lake are also on the doorstep of the largest forest within city limits in Europe. I can only imagine how spectacular the nature must be the deeper you go into the forest, especially given that the River Łyna flows through the forest as well. An excursion for the summer months perhaps. 
Just before the bridge on the eastern side of the lake, I paid 2 zloties at a machine which releases seeds and whatnot to the public so they can feed the ducks. 
Ducks firmly fed, we crossed over Most Zakochanych (Lovers' Bridge), which charmingly connects the two banks of the lake.
To round things off, here are the highlights of our walk around the northern part of Jezioro Długie: