Having already crossed Hel and Jurata off my bucket list in the previous 24 hours or so, my wife's and my next destination on the return to the Polish mainland was Jastarnia. 
A brief history of Jastarnia
The first written references to Jastarnia date back to the end of the 14th century. More precisely, the Teutonic charter for the city of Hel mentioned the name Osternäs, equated with Jastarnia, in 1378.
In 1678, the name Jastarnia appeared for the first time. Previously, the settlement was called: Osternäs, Zesterna, and Hestarnia. There exists a historical document which mentions the names of the inhabitants. They were Kunkol, Białk, Droszka, Selin, Buda and Swinka – a total of 81 people with wives and children.
Moving forward somewhat. The rapid development of the settlement of Jastarnia was associated with the interwar period. Between 1926 and 1930, the fishing port and passenger harbour were constructed. The development of the village as a summer resort was also accelerated by the construction of the Puck-Hel railway line in the early 1920s.
Top three things to do in Jastarnia
1. Check out the port in Jastarnia
From the side of the Bay of Puck (Zatoka Pucka), there is a rather quaint port in Jastarnia which also serves as a fishing base, passenger landing and a yacht marina. In the eastern part of the port, there is a sports sailing centre and a diving base.
Large boats can enter the port – up to 60 metres in length. The port basin is firmly protected by two breakwaters. The western one is 200 metres long and the eastern one 80 metres.
The port in Jastarnia was built during the interwar period in 1926-31. During the war, the port was destroyed. It was rebuilt in 1947-49.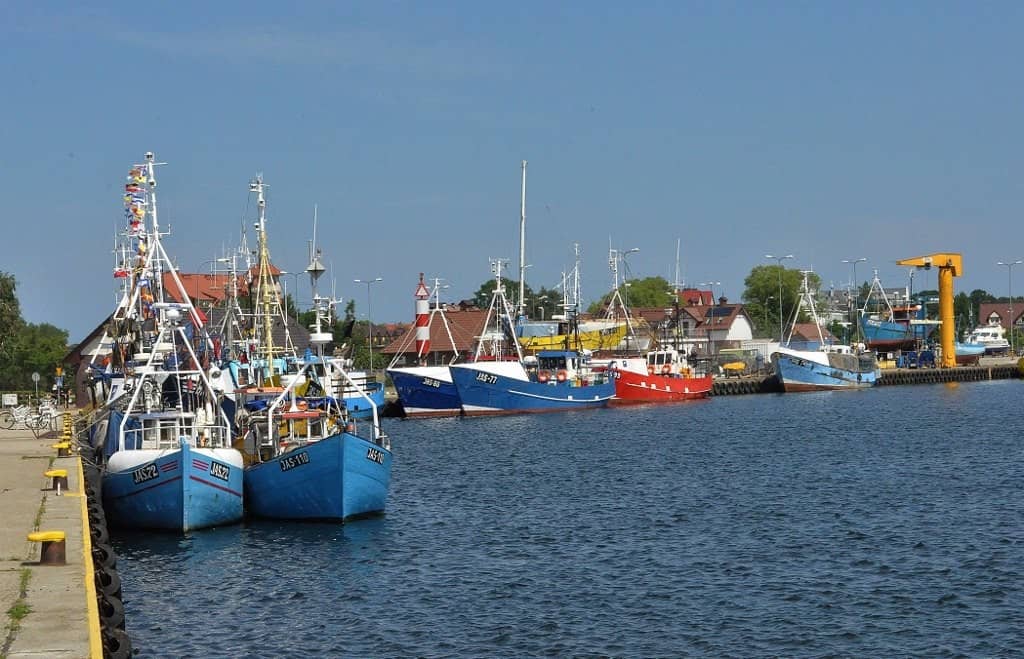 2. Stroll along the pier
The pier in Jastarnia may not be as long as the one in Jurata. However, Jastarnia's wooden offering enables strollers to get a very different view of the green backdrop behind the shoreline and those going about their water sports business. After all, Jastarnia is a well-known centre for kitesurfing, windsurfing and surfing.
At the end of the pier, there's a board with the names of places on the other side of the Bay of Puck. Their position on the board roughly corresponds to their position on the horizon line. 
3. Admire the views over the Bay of Puck from the Nowa Jastarnia Restaurant
After hitting the pier, my wife and I went upstairs for drinks on the terrace of the Nowa Jastarnia restaurant. 
Although we didn't sample the food, we revelled in views across the Bay of Puck as we sipped away at our delicious ice cold drinks – marakuja and mint lemonade and freshly-squeezed orange juice. Not cheap at 18 zl and 28 zl respectively. However, it was a punishingly hot day and we were rise to rest in the shade before heading on to Kuźnica.