Just recently, I bought two PKP intercity tickets online from Warsaw Central Station (Warszawa Centralna) to Gdańsk Główny Station. This is the main station in Gdańsk.
To be precise, I bought two PKP Express Intercity Premium (EIP) tickets online. 
Check out the differences between the various types of trains in Poland.
Anyhow, the aim of this post is to show you how you can purchase PKP intercity tickets online.
I'll also highlight just how much money you can save by buying your intercity tickets online a month or so in advance of your date of travel. 
I'm aware that most people don't require a step-by-step guide such as the one below to buy train tickets on the Internet. However, dive in because I do offer a few useful tips related to buying PKP intercity tickets online.
Buying PKP Intercity tickets online – a step-by-step guid

e
Step 1:
Head to intercity.pl. You can change the language to English by clicking on the drop-down menu at the very top of the webpage.
Step 2:
Fill in the details of your journey.
Let's imagine that I want to travel from Warsaw Central Station to Gdańsk Główny (Main station) at around 10am in the morning on November 9, 2023.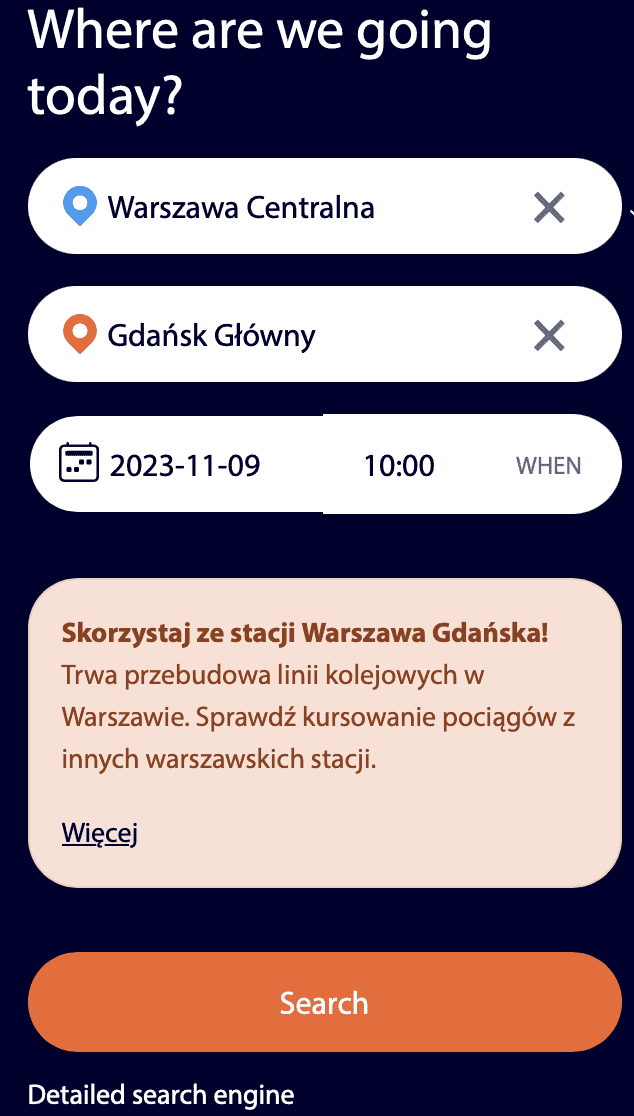 Extension

:
The new PKP Intercity website now includes a 'Detailed search engine'. Click on this under the orange 'Search' button.
As you can see in the screenshot below, you can choose which type of train you'd like to travel by. Moreover, there are options for the possible transport of bicycles and direct connections only, among other choices.
At that time of the morning, my demands will be fairly modest. I'm done with the TLK trains which consist of classic older rolling stock, so I will untick that option. Most importantly, I'm interested in direct connections only.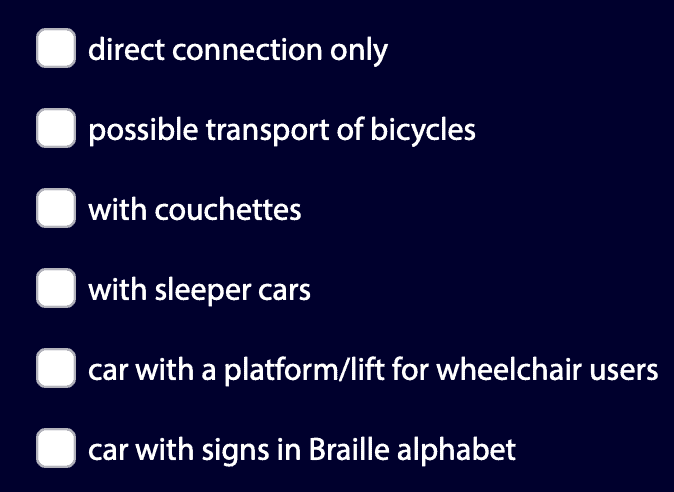 Step 3:
Now, the connecting services around the time of departure you have chosen will appear.
The IC Intercity trains might not be as modern and fast as the Express InterCity Premium (EIP) trains. However, why would I spend an extra 100 zl to reach my destination if the two train types leave at similar times and there's no hurry to get to Gdańsk? 
Hence, I will click on the CHOOSE button for the IC train and the page will scroll down so that I can fill in some more details.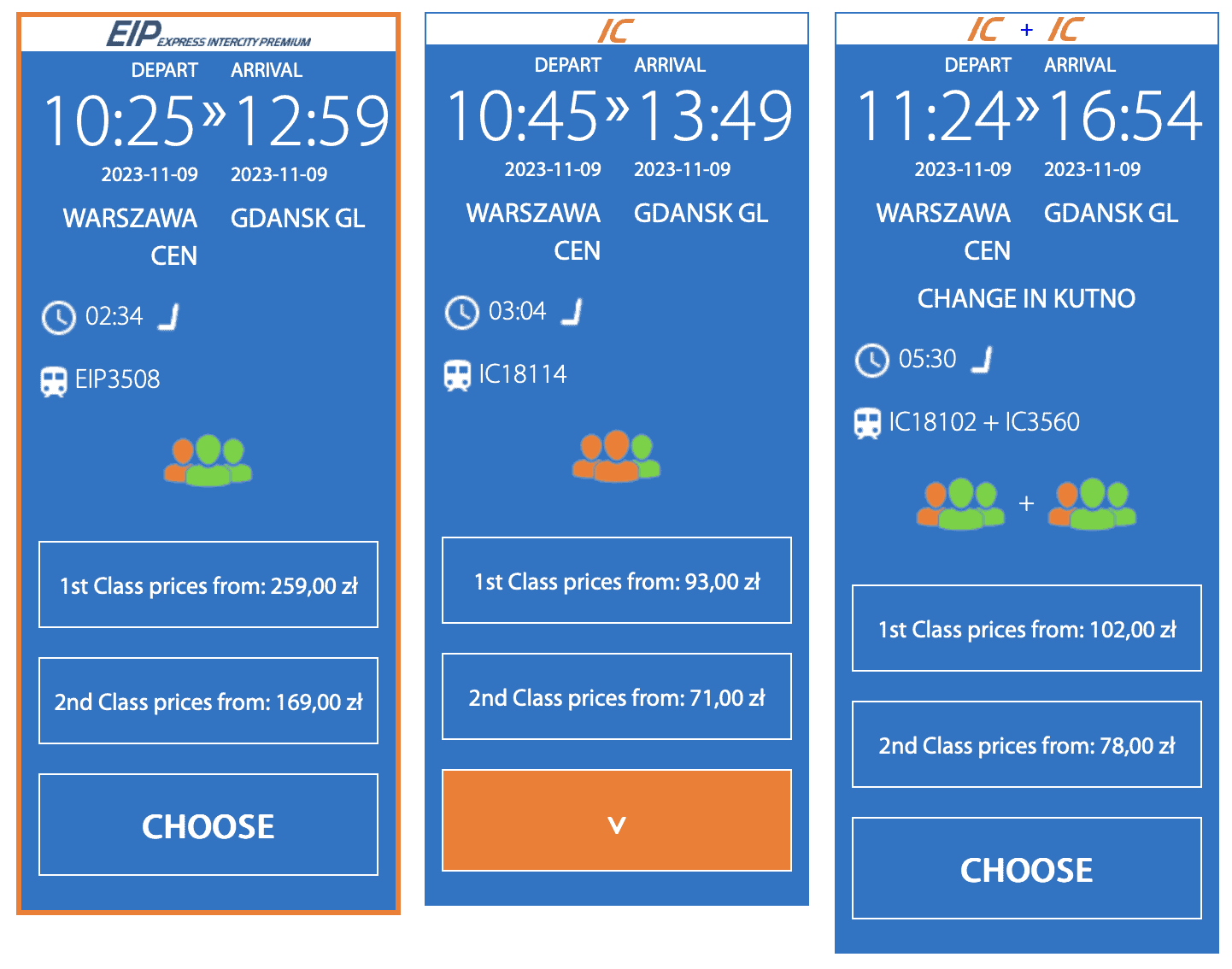 Step 4: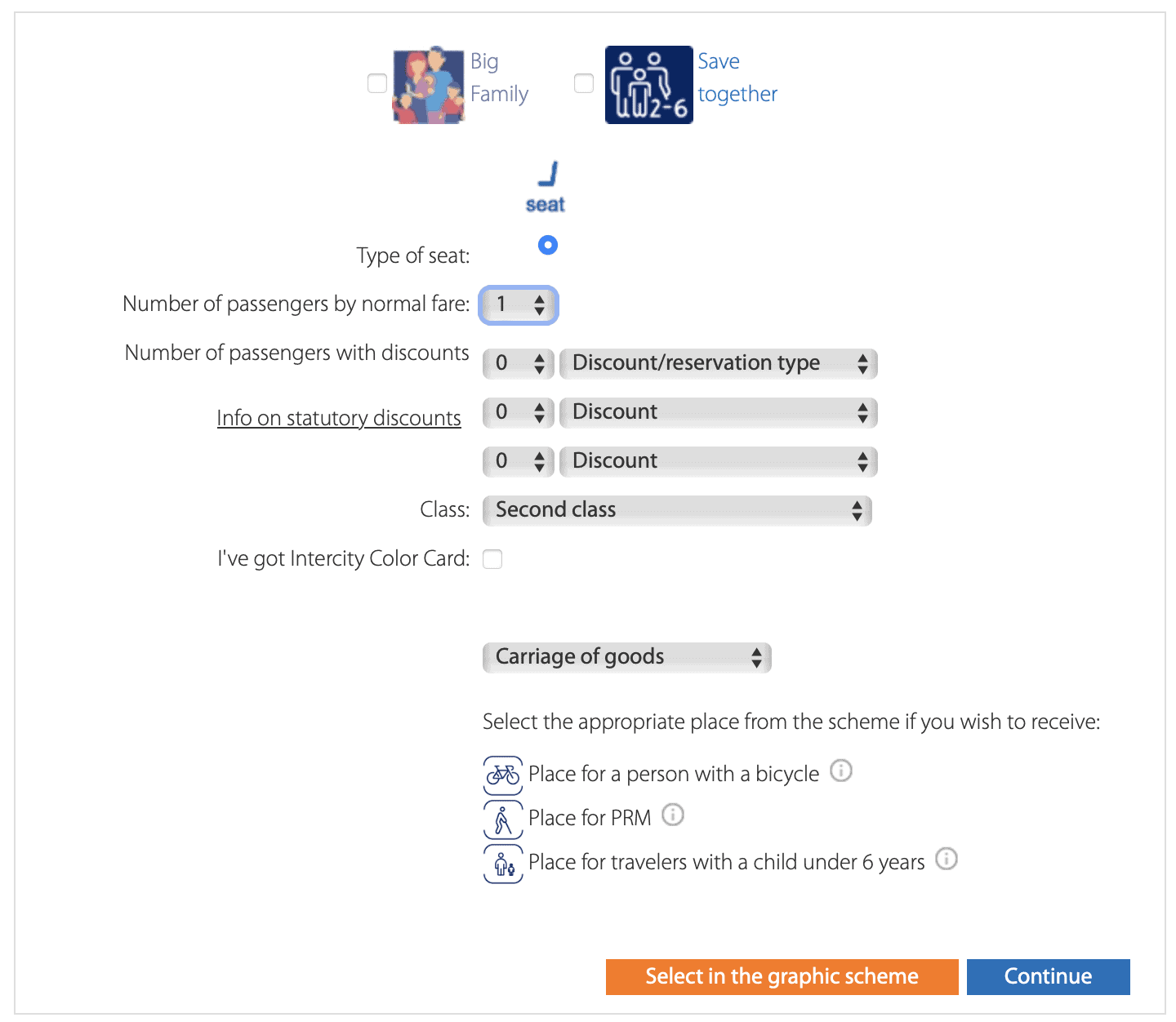 Everything is rather self-explanatory. You may change the 'Number of passengers by normal fare' as well as first class instead of second class.
When it comes to 'Carriage of goods, there is an 'extra luggage' option. Honestly, I have lugged two or three suitcases onto Intercity trains before without paying for 'extra luggage'. There is no way that ticket inspectors can monitor which pieces of luggage belong to which passengers. Moreover, checks aren't carried out when people board a train. Therefore, I wouldn't worry too much about paying an extra 5 zl for 'extra luggage'.
Click 'Continue' to proceed.
'Save together' – Special offer when travelling on TLK and IC trains
For groups of two to six people, PKP Intercity has a special travel offer for you called Taniej z Bliskimi, or 'Save together'. At the top of the image above, you can see that there's a tick box next to 'Save together'.
This special offer allows you to reduce travel costs on TLK and IC trains by at least 30%. In the case of travelling from Warsaw to Gdansk on the IC train I selected above, the price for two people would be 99,40 zl – a saving of 42,60 zl.
Apart from the condition that you must travel in a group of between two and six people, you have to travel on the same train both from and to the same station. You must also travel in the same carriage class (first or second) be in regular carriages with seats, carriages with couchettes and in sleeping cars.
For travel in couchette and sleeping cars, you need to pay for seat reservations in addition to purchasing tickets.
You can buy tickets from 30 days up to the day before departure (e.g. for a trip on June 28, tickets must be bought no later than June 27).
Step 5:

You'll then be taken to another page where you should double-check the details of your journey and enter the name of the traveller.
As stated in the picture above: Should more than one person travel using one ticket, enter details of only one passenger.
It's important to do this correctly as ticket inspectors usually compare the name on the ticket to the passenger's name on their ID card or in their passport.
Click on 'Choose' to continue.
Step 6:

Assuming you haven't got an account, click on 'Buy without registration'.
Step 7: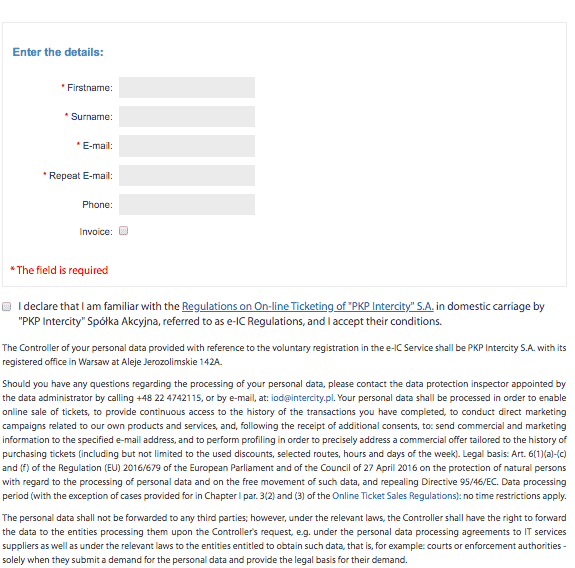 On the next screen, fill in your personal details. Make sure the email address is correct as your ticket (PDF) will be forwarded by PKP Intercity to your email address.
There are also some boxes to tick concerning regulations and personal data.
Click ' continue'.
Step 8: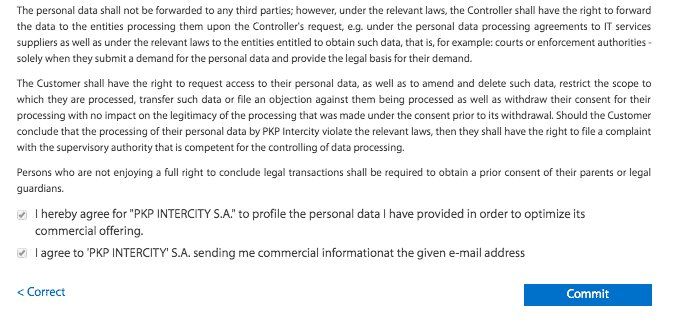 On the next screen, you will have to check your details once more and then click 'Commit'.
Step 9:

Finally, you will see a summary of your journey with the chance to buy a return ticket. You can now click on the payment option of your choice which will automatically light up the orange 'Buy and pay' button at the bottom right hand corner:
Step 10:
As soon as the payment has gone though, Intercity forwards tickets to a passenger's email address in PDF format. Payments are usually processed in a matter of minutes.
Buying PKP Intercity tickets online

–

Bargains to be had
It used to be the case that you could grab cheap tickets on EIP and EIC trains for as little as 49 zl between Warsaw and other major cities (Super Promo offer). There was also the Wcześniej-Taniej ("Earlier-Cheaper") promo whereby passengers could buy a single ticket for domestic connections in advance and automatically receive a discount of 10% , 20% or 30% on the base price.
However, all offers have been shifted to PKP Intercity's Promobilet search engine which helps you to find promotional tickets.
From May 5, 2022, the availability of individual promotional tickets no longer depends on how early in advance the passenger buys a ticket or the popularity of a given connection.
Instead, PKP Intercity now manages the number of promotional tickets in individual price thresholds depending on, among other factors, forecasted attendance, routes and departure times.
Hence, what we now have is a unified Promo with five price tiers:
Super Promo

Promo Plus

Promo 45 (tickets 45% cheaper than the base price)

Promo 30 (30% cheaper)

Promo 15 (15% cheaper)
The Super Promo and Promo Plus thresholds apply to all types of trains – TLK, IC, EIC and EIP.
Overall, it's well worth checking the "Promobilet" link above to see what bargains you can find. There are even last-minute bargains to be had for same-day departures.

A very pleasant and comfortable way to travel 
The Polish railways network has come on in leaps and bounds in recent years. 
Grabbing your PKP Intercity tickets online for super cheap prices will set you on the path to what is guaranteed to be a very pleasant and comfortable train journey in Poland.
FAQ – Puchasing PKP Intercity tickets online