Droga Kaszubska – an equivalent translation in English might be the "Kashubian Road".
Given that it's now the middle of winter, and my wife and I visited Kashubia on July 2 last year, this is somewhat of a retrospective account of my time driving the Kashubian Road.
Great memories never fade.
Droga Kaszubska runs through the central part of the Kashubian Landscape Park, from the village of Garcz, right down to the junction of National Road number 20 between Szymbark and Rybaki. 
Running between lakes, wooded hillsides and fields, the route allows visitors to see the most beautiful and interesting corners of the landscape park.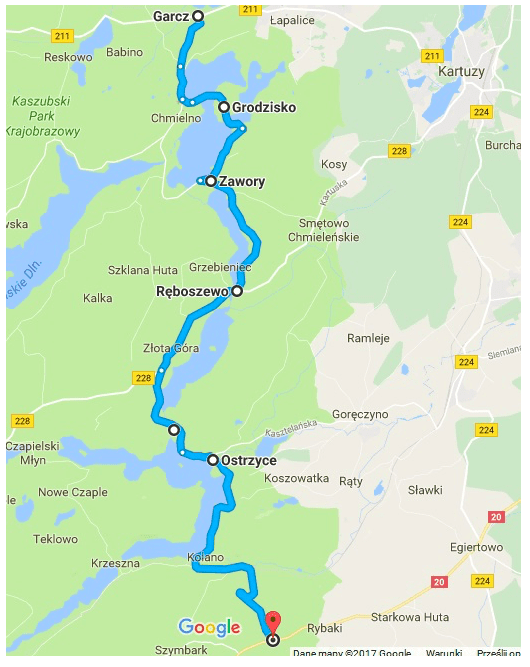 From south to north on the Kashubian Road
Our day started with a short hike up to the Kashubian Viewing Tower (Kaszubska Wieża Widokowa) on Wieżyca hill.
Moderately impressed with what the most extensive panorama had to offer, we left the car park just off Długa Street and drove a kilometre or so to the southern tip of Droga Kaszubska.
From there we drove around 4 kilometres to the village of Kolano.
Stunning views over Ostrzyckie Lake 
In Kolano, we noticed a small car park right under a pedestrian bridge. Paid parking, apparently. We didn't see a parking attendant nor a parking meter so we kept our money in our pockets.
After crossing the bridge, stunning views over Ostrzyckie Lake awaited us: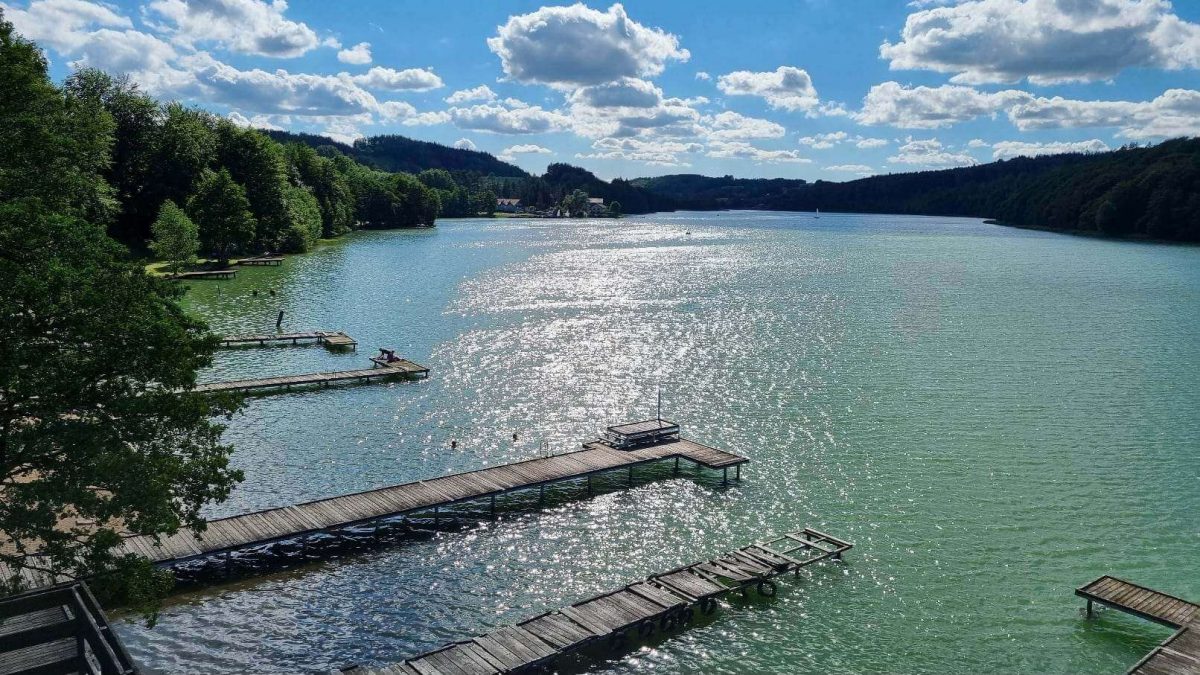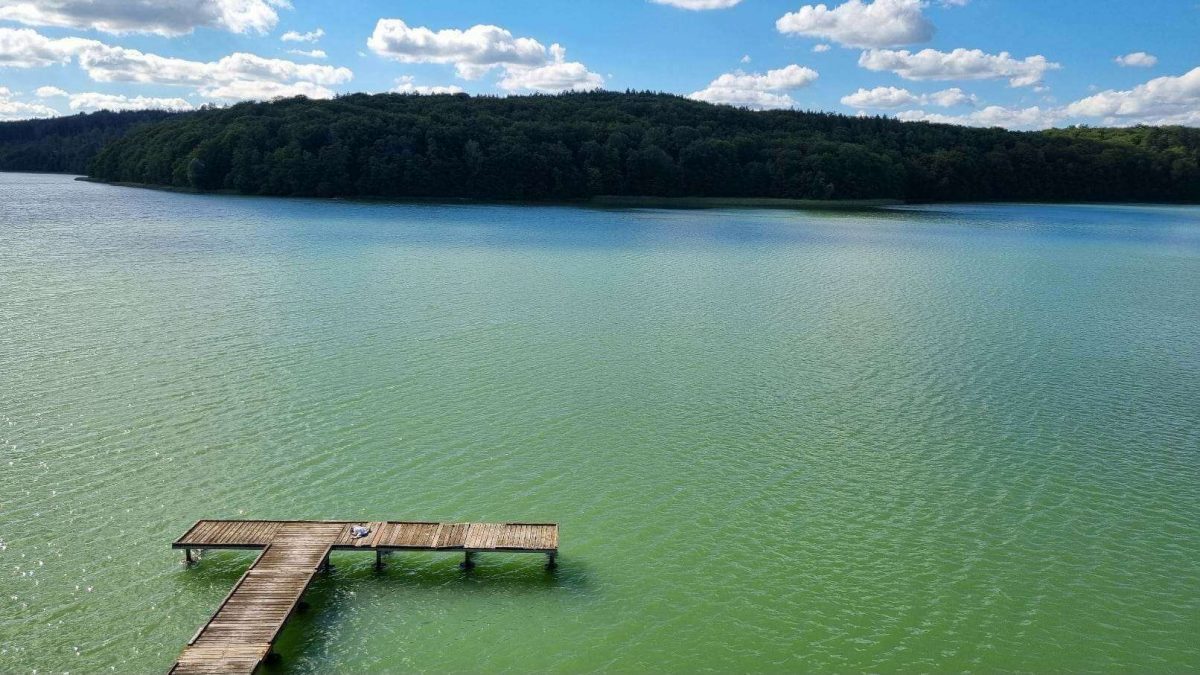 Actually, this wasn't our first visit to Ostrzyckie Lake. We had previously visited Krzeszna for a walk and bite to eat at Gościniec Malinówka. Krzeszna is situated right on the southern tip of the lake.
Everywhere you look. Nature at its finest. It felt good to be back.
Coffee break and more strolls in Ostrzyce
From Kolano, we travelled north to the village of Ostrzyce.
Our first port of call in Ostrzyce was Ostrzyce Spa – a spa and Wellness hotel with a restaurant.
We had coffee in the extension to the restaurant. It was too warm to sit outside.
Ostrzyce Spa is set in charming surroundings just a few hundred metres away from Ostrzyckie Lake.
Operation Caffeine Hit complete, we left our car in the hotel's car park and walked down to the shoreline of the lake.
Several boardwalks protrude into the lake. It was hugely pleasing to see some kids enjoying themselves in and around the water.
Near the shoreline of the lake, there is a campground, a rope park (Park Linowy Stolem), and a walking path lined with figures and educational boards dedicated to fish and fishing. There's also another boulevard with images of Kashubian demons and illustrations of legends.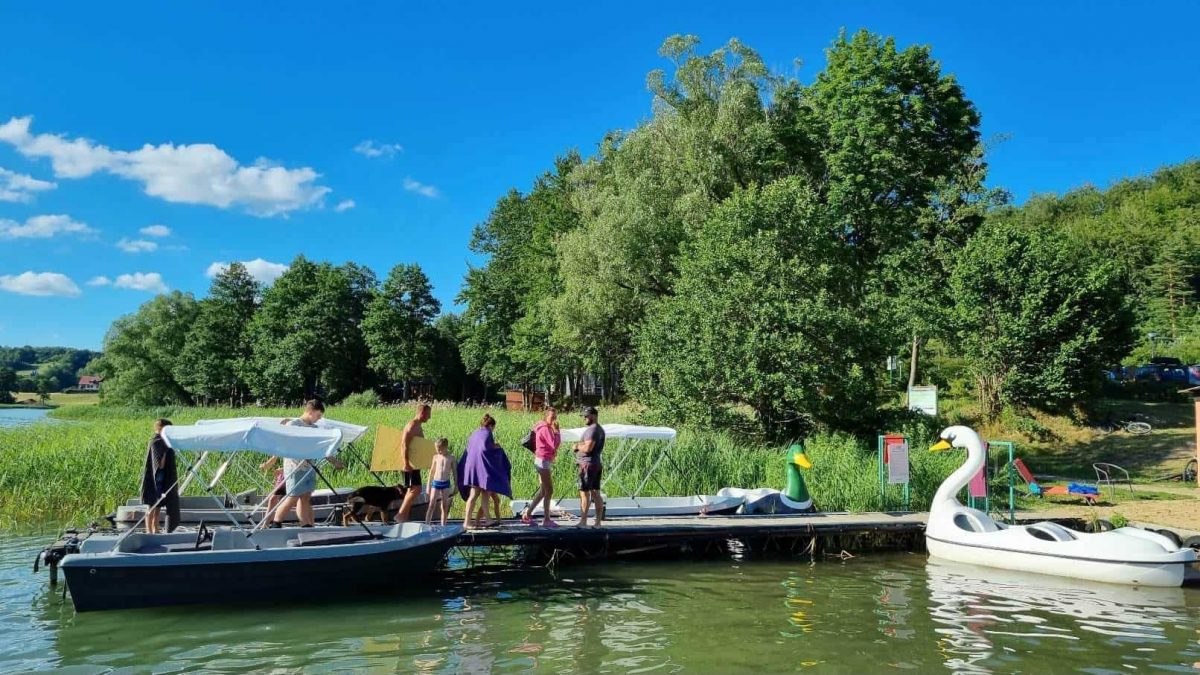 Next stop – Brodnica Górna/Złota Góra
We left Ostrzyce and continued our way along Droga Kaszubska towards the settlement of Złota Góra, near the village of Brodnica Górna.
Sandwiched between Ostrzyce and Złota Góra is Lake Jezioro Brodno Wielkie. In the summer, the view of the lake from the road is mostly obscured by trees.
Anyway, as we were driving into Złota Góra, we were overcome with surprise at the hordes of visitors everywhere.
Strawberries
Little did we know that the largest outdoor festival in Kashubia had been scheduled to take place on July 2. Called Truskawkobranie, literally "Strawberry picking", the event has been held in Złota Góra since 1971. 
So, why "Strawberry picking"?
Well, there are a plethora of strawberry plantations in the area surrounding Brodnica Górna/Złota Góra. So, on the occasion of the strawberry harvest season, the hosts of the Kartuzy district get together to organise a great folk festival.
Sandwiched between Droga Kaszubska, and what is known as Punkt Widokowy Złota Góra (Złota Góra viewpoint), there were commercial and gastronomic stands galore. Unsurprisingly, strawberries in various forms dominated proceedings. We purchased some Kashubian strawberry jam and both drank two lots of fresh strawberry juice.
Oh what an atmosphere, oh what stunning views
Truskawkobranie is not just about all things strawberry.
Visitors can also revel in artistic performances, fishing competitions and the achievements of Kasubian culture.
Still, it is the naturally shaped amphitheatre (Amfiteatr Złota Góra) which really steals the show. Standing there on Złota Góra hill looking down at the amphitheatre with Lake Brodno Wielkie and the Szymbarskie hills in the background, it dawned on me that I'd seen few finer sights in Poland.
No one really knows exactly who came up with the idea of organising this outdoor event on this hill. However, the idea deserves applause. After all, I'm sure it'd be tough to find a more charming location in Kashubia. 
Several concerts were due to be held in the amphitheatre that evening.
However, time was not on our side.
We left Złota Góra and drove on towards Zawory.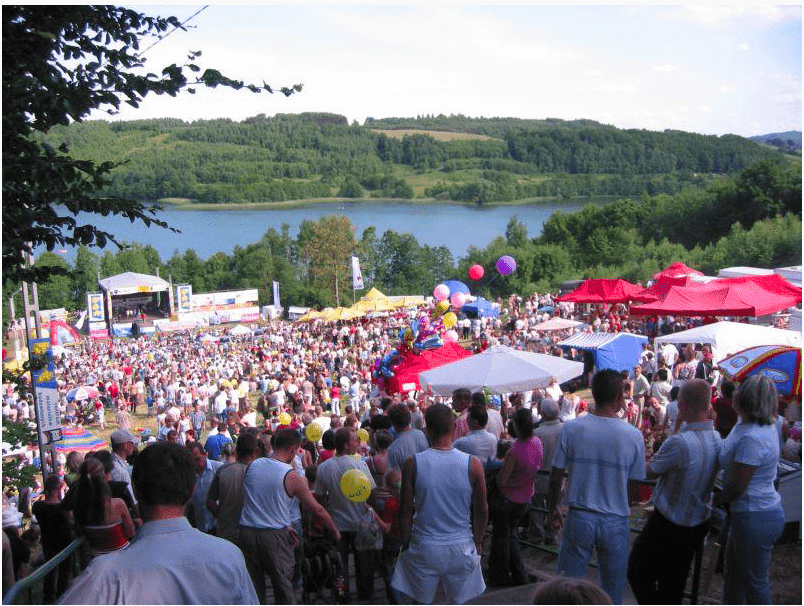 Zawory
Another quaint village, another lake.
We made a short stop in the village of Zawory, which is attractively located between Kłodno Lake and Małe Brodno Lake.
Kłodno Lake is known for its clean water – first-class purity. It is plain to see why: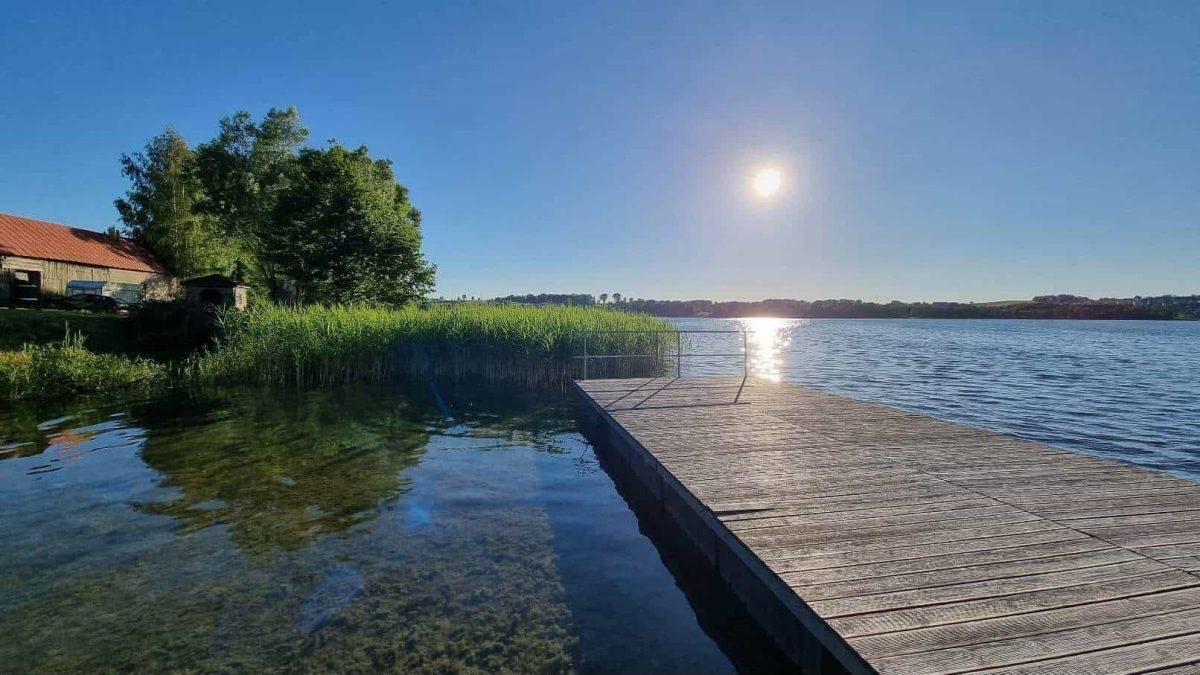 Last stop – Chmielno
We made it our last stop on Droga Kaszubska – Chmielno.
Chmielno is an extremely picturesque village, situated between the lakes Białe and Kłodno. Chmielno Beach is located on the shore of Kłodno Lake. Białe Lake is just behind the beach on the other side of the road.
We parked up near the Parish Church of Saints Peter and Paul and trotted towards Kaczy Rynek (Duck Marketplace). The name is totally apt as, a few steps away from the marketplace, we saw many ducks lazing the day way on the shore of Białe Lake.
Several boardwalks strut out into the water – an ideal opportunity for taking photos over the lake.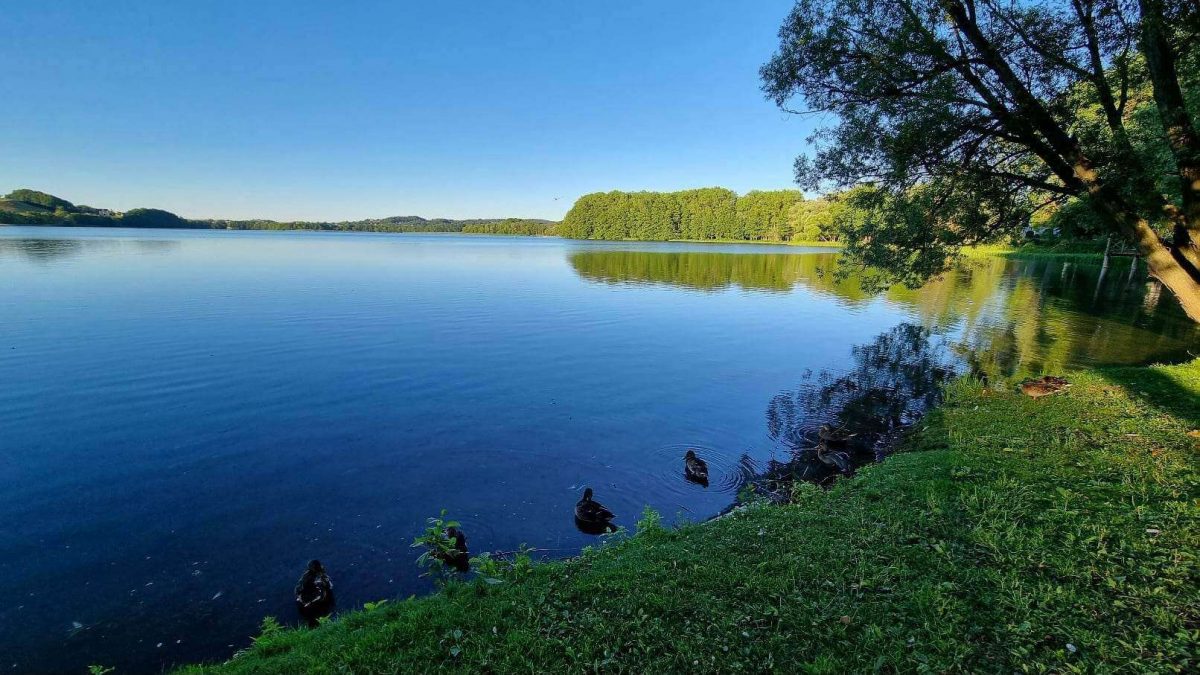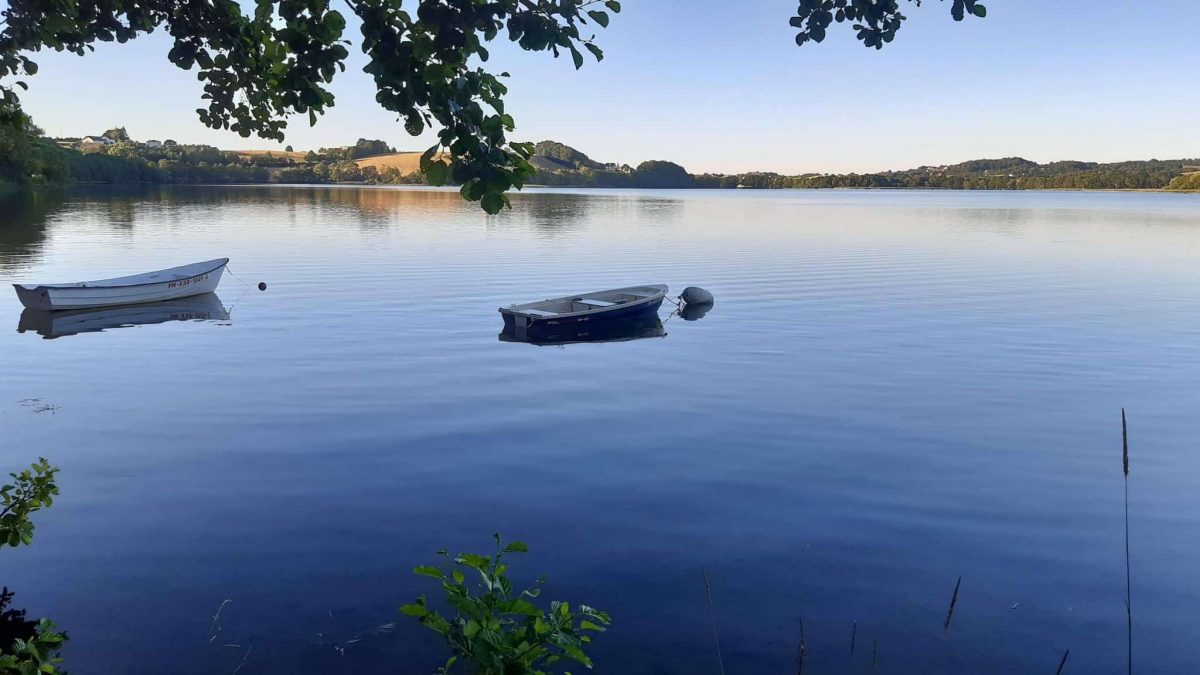 FAQ – Droga Kaszubska | The Kashubian Road