If you've just bought an apartment in Poland, it should quickly come to your attention that you have to pay monthly communal fees. This is the czynsz administracyjny bill.
"Czynsz najmu" or "czynsz administracyjny"?
As the name czynsz administracyjny suggests, it's an administrative fee that has been adopted as a definition of the sum of benefits and fees to be paid by apartment owners to the accounts of housing associations or members of housing co-operatives on their behalf.
People in Poland are used to bandying about the word "czynsz". However, they might not always be referring to the czynsz administracyjny bill.
There's also czynsz najmu. This is the actual rental fee determined by the property owner, minus the monthly communal costs. 
E-karkoteka – For ease of use
The company which maintains all of the buildings on my estate uses e-kartoteka. 
Using a personal identifier and password, residents can obtain access to their own online file where they're able to view their obligations and payments. This information is available 24 hours a day, 7 days a week, via a standard web browser.
As can be seen in the screenshot below, the control panel enables tenants to check the following:
rozrachunki (cash payments due)

wykaz opłat miesięcznych (a list of monthly fees included in your czynsz bill)

stany liczników (meter readings for central heating, warm water and cold water)
There are plenty of other features available to view, such as other tenants' adverts and notices.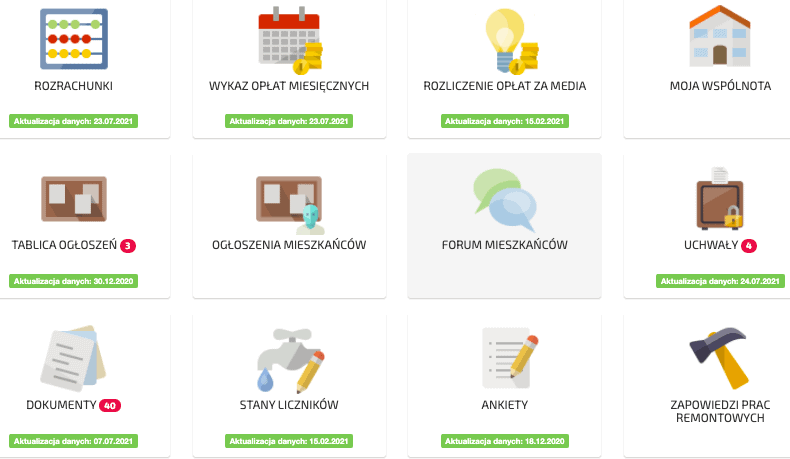 Breaking down my czynsz administracyjny bill
My monthly czynsz administracyjny bill for June and July 2021 amounted to 625 zl. That's around 137 euros for a 75m2 flat. 
If I hadn't purchased the komórka lokatorska (storage unit in the underground garage) and two parking spaces from the previous owner (numbers 5 and 6 in the sample czynsz bill above), my current czynsz administracyjny bill would only come to 560 PLN.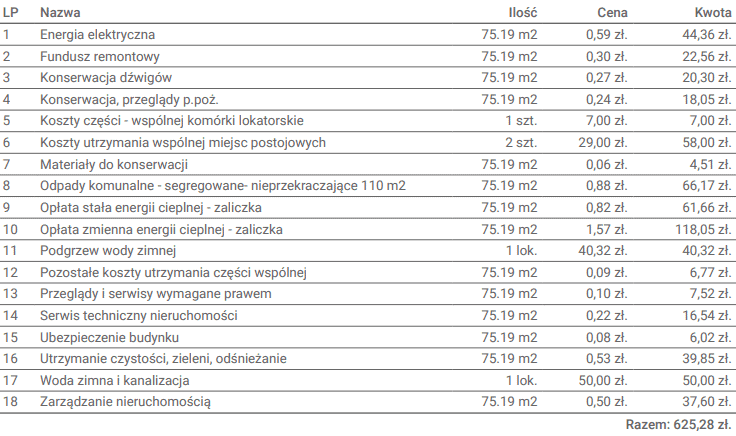 Using the breakdown of communal fees in the image above, let me translate some of the payments that I have to cover on a monthly basis: 
no.1 – Electricity (inside the building)
no.2 – Renovation fund
no.3 – Lift service 
no.4 – Service fee for the fire prevention system and periodic fire safety review
no.8 – Communal waste – segregation
no.15 – Building insurance
no.16 – Maintenance of green spaces, snow shovelling, general cleanliness of outdoor spaces
no.17 – Cold water and canalisation 
no.18 – Property management fee
Summary
Overall, I don't think the fee I pay is much at all. This is because I'm very satisfied with the state of the building I live in. Moreover, the underground garage and green spaces around the building are always clean and well-maintained.