When it comes to currency exchange in Gdańsk, I have a fair bit of experience as I've been changing money in the city since 2017. 
I've probably used five or six currency exchange services in Gdańsk. These days, I stick to the one which I've changed quite a lot of money in over the past four or five years. It's only here that I know I will get a fabulous rate that's close to the foreign exchange reference rates set by the Polish National Bank. 
Let's take a look at where and where not to change your hard earned cash in Gdańsk. 
Where should you avoid changing your foreign currency in Gdańsk?
Before I mention a few foreign currency exchange offices in Gdańsk which I'd recommend you to change money at, here's where I would totally avoid engaging in any currency exchange in Gdańsk:
1. Gdańsk Airport
It's common knowledge that foreign exchange centres at airports should be avoided like the plague.
Do not change money at Gdańsk Airport unless you can really help it.
I have just read an article (dated 8/12/2017) about a Finnish tourist who exchanged $400 at Gdańsk Airport. The exchange rate was 2.69 PLN per dollar. I don't exactly know what the exchange rates were like in December 2017. However, two and a bit zloty was obviously a rip off.
As the story goes, the clerk at the exchange office convinced the Finnish lady that if she exchanged currency in the city centre, she'd be even worse off because other exchange offices in the centre would charge her an additional commission fee. 
Little did the tourist know that it's actually illegal for currency exchange offices in Poland to charge such a fee.
Overall, the Finnish tourist lost out on PLN 300 through her own blatant gullibility. I don't understand why anyone would need $400 of Polish currency upon arriving in the country. For bus tickets perhaps? You can purchase tickets by card or change $10 into PLN if you really have to. It's baffling how people fritter away their money and then complain about it after.
2. The main streets in the Main Town of Gdańsk – Don't get ripped off on Długa Street 
There are much better places for currency exchange in the centre of Gdańsk than the most famous pedestrianised street in the Main Town – Ulica Długa.
There's one currency exchange on this street quite close to Sempre Pizza restaurant (Długa 6/7/8) which changes currency at a rate close to 25%-30% below rates offered by more respectable exchange places in Gdańsk.
Scammers. Rip-off merchants. Traps for gullible people. 
Don't change your money on Długa Street. Take a five-minute walk instead.
Where is the best place to exchange foreign currency in Gdańsk?
I was extremely lucky to have discovered Najlepszy Kantor Gdańsk in 2019. This was at the time when I exchanged fairly large sums of euros and British pounds into Polish zloty in order to purchase a flat.
Intriguingly, Najlepszy Kantor Gdańsk has two small offices just a thirty-second walk away from each other on Podwale Staromiejskie Street.
Here's the office at Podwale 104: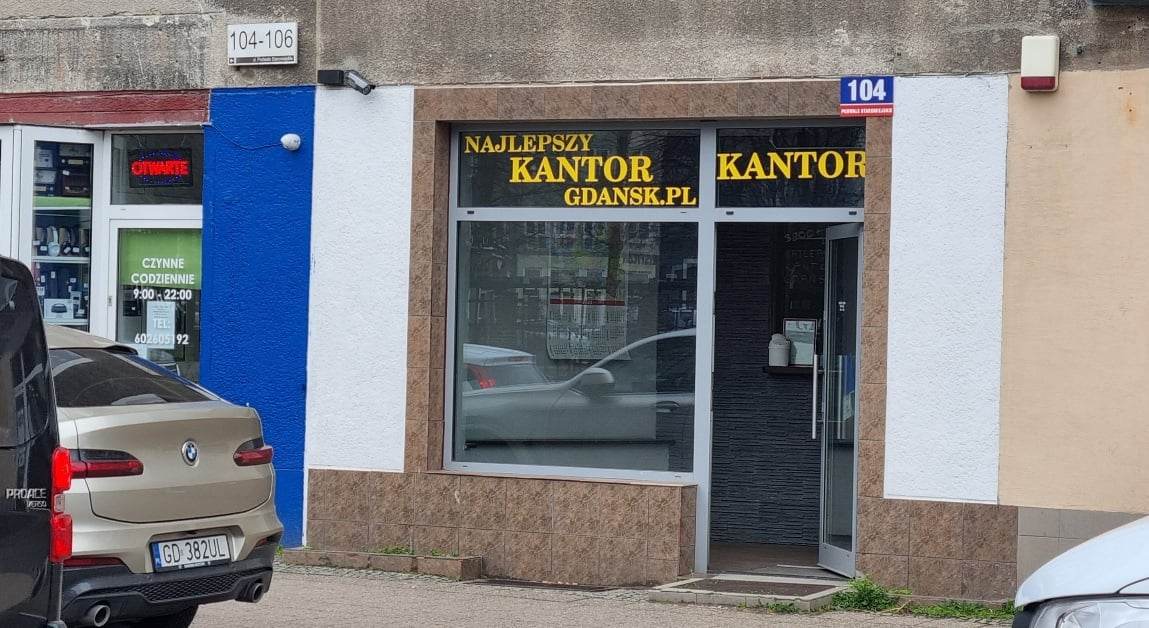 The chap who works here is very approachable, cheerful and honest. As I'm now a regular customer, he always offers rates that are very close to the currency rates set by the Polish National Bank. 
As for the other branch at Podwale 109/112, I believe it is the man's wife who runs the show here. 
Here are the rates set by Najlepszy Kantor Gdańsk on the day of writing this post, as advertised on the office's Facebook page: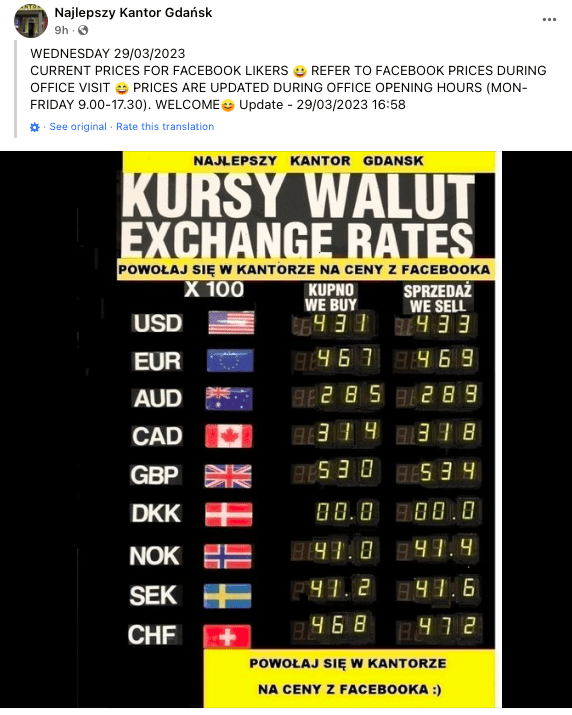 As you can see, the buying and selling rates do not very much at all. This is the sign of a reputable currency exchange office.
In order to secure these excellent rates, mention the office's "Facebook prices" when you visit. 
What should you be aware of when changing money in Poland?
Currency exchange in Gdańsk is generally hassle free if you don't get sucked into changing money at the airport and on streets like Długa.
Take note of the Polish words SKUP (buy) and SPRZEDAŻ (sell). Be wary of exchange offices which only advertise the "sell" rate.
Always check the currency rates set by the National Bank. The buying and selling rate should not vary by more than 0,05-0,10 zlotys on major currencies such as EUR, USD or GBP. The very best exchange offices run on margins as low as 0,02 zl. 
Finally, many exchange offices advertise both regular rates and also "wholesale" currency prices for transactions above 4,000 PLN, as you can see below:
FAQ – Currency exchange in Gdańsk