This is not the first time I've written a piece on Finding Poland which covers the cost of living in Poland per month.
Back in July 2021, I provided some insight into the average living cost in the city I live in – Gdańsk. Moreover, I compared the cost of living in Gdańsk with the average monthly living cost in Kraków.
Of course, the world we now live in is a very different place than it was in 2021. I don't have to mention which events have affected the cost of living and prices across the globe.
In July 2021, Numbeo revealed that people in Gdańsk had to contend with the highest cost of living in Poland. This is no longer the case, even though one must take data on Numbeo with a pinch of salt:

In general, I think that the cost of living in Gdańsk is generally representative of the cost of living in most other major Polish cities. Hence, the aim of this post is to share what I've noticed in Gdańsk in terms of rising prices over the past few months. Bear in mind that the estimates of living expenses I provide are extremely conservative.
A breakdown of the cost of living per month in Poland
*The cost of living estimates I provide in this post are for a childless couple.
Let me begin with the area of apartment rental in Poland.
Apartment rental with a parking space (4200 zł)
As of January 12, 2023, the average rent per month for a one-bedroom apartment outside the city centre of Gdańsk is 2,153 zł (Numbeo). Frankly, I'd like to put that figure to the test by checking out the cost of renting apartments on Otodom. Otodom is the most well-known online property portal in Poland.
I've just run a search for flats in the district I live in, Piecki-Migowo. This district is around 4.5 km from the Main Town of Gdańsk. It's not on the outskirts of the city.
What have I noticed? Well, there's almost nothing of quality below 2,500 zł. Some property owners are even trying to rent out studio apartments for 2,600 zł:

Flats with an area of 40m2-50m2 are being advertised for around 2,800 zł.
As for the Main Town of Gdańsk in and around prime locations such as Szafarnia Street, my search informs me that it'd be tough to find a decent 40-50m2 flat to rent in a building constructed in the last 10 years for less than 3,000 zł. 
If you have kids and need to rent out a two or three-bedroom apartment in Gdańsk with an area of 70-90m2, you'll have to pay at least 4,000 zł. To live in the Main Town and prime locations like Wrzeszcz and Przymorze, you will have to fork out as much as 5,000-6,000 zł for an apartment in a newer building.
I am the owner of a two-bedroom 75m2 property in Gdańsk. 
For the purposes of calculating the monthly cost of living in Poland, let's imagine that the rent with a parking space is 4,200 zł.
Monthly utility bills
Now, we will add my monthly utility bills for you to get a much better picture of the cost of living in Poland per month.
Communal charge 
The communal fees bill in Poland is called czynsz administracyjny. It covers elements such as electricity (inside the building), waste disposal, lift maintenance, the upkeep of green spaces around the building and water and canalisation.
Back in April 2019, when the previous owner of my flat showed me a recent communal fees bill, the fee was around 540 zł. This fee included two parking spaces and a storage unit in the underground garage, for which I now pay a combined total of around 65 zł per month. 
Fast forward to January 2023, and my communal fees bill rose again at the beginning of the month to 662 zł: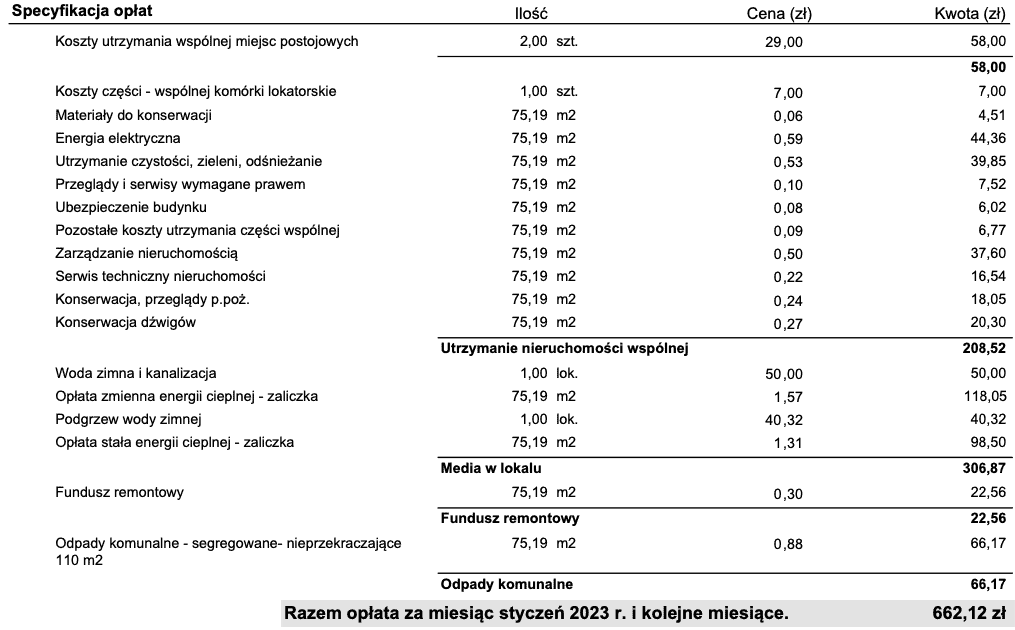 Considering everything that's gone on in recent years, I suppose this 120 zł increase over a four-year period isn't entirely disgraceful. However, I shudder to think how much the communal fee will be next winter.
In my July 2021 post on living costs in Poland, I stated that I was "delighted" with the condition of the building I live in, as well as the general maintenance of the green spaces and paths around the building. Unfortunately, things have gone downhill since that time. It appears that my housing association no longer employs as many cleaners and open space maintenance workers as it did last year. 
662 zł
Internet
It's not expensive to have high-speed fibre-optic Internet in your home in Poland.
I'm with the provider UPC. 
At the time of writing, UPC is offering fiber-optic Internet with a speed up to 600 Mb/s for 60 zł a month on a twelve-month contract: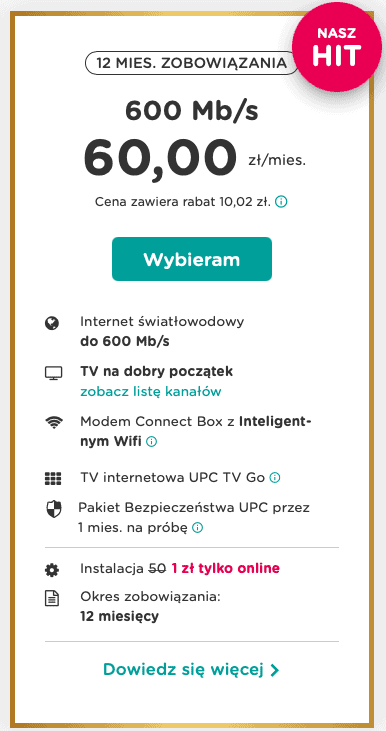 You also get some Polish TV channels thrown in with the offer.
It only costs 10 zł extra if you want a no-contract Internet plan.
60 zł
Electricity 
I receive my electricity bill every two months.
My bill for the period from 26 September, 2022, to 25 November, 2022, came to 322,69 zł for 278 kWh of electricity use.
Going back to the period from 27 May, 2021 to 26 July, 2021, I paid 267.71 zł for 347 kWh of electricity use.
During both of those periods, my wife and I were out of Gdańsk for roughly ten days. Otherwise, I work from home and we cook more or less every day.
Honestly, I don't really keep tabs on price hikes for electricity use.
Nevertheless, I am eager to see what the bill will be for the period from 26 November, 2022, until the end of January 2023. 
170 zł
Mobile telephone
Frankly, I've never been interested in comparing offers provided by mobile phone operators in Poland.
I am with PLAY and pay a prepaid amount of 30 zł per month which gives me free calls and text messages. I also get 15 GB of Internet. I'm not exactly sure whether 15 GB is a lot or not. However, I'm not one for walking down the street with my head stuck in my phone all the time, so I think it's enough.
60 zł (two people)
Grocery shopping in Poland 
Just yesterday evening, I went to my local supermarket, Carrefour, to do a bit of shopping. I also made a note of prices of items which are on most people's basic grocery list: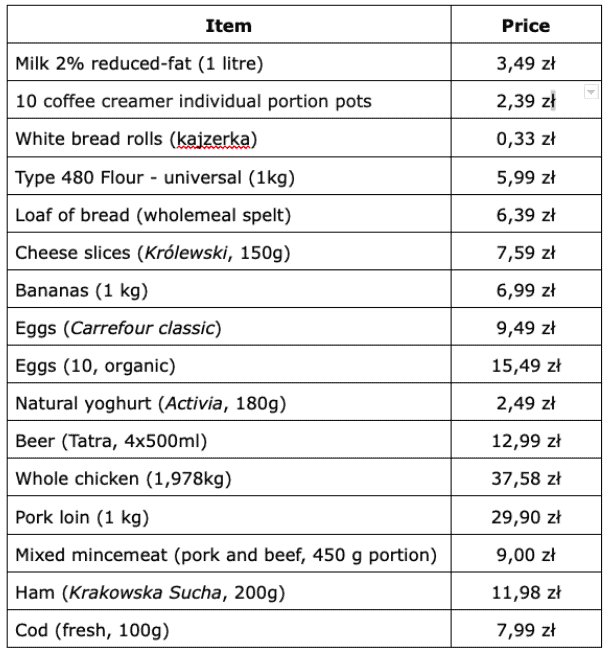 At first glance, you're probably thinking that some of those prices don't look that steep. However, many of the items in the table above have gone up at least 30% since the start of 2021.
Overall, I think it's in the area of grocery shopping that the cost of living in Poland per month is biting many people. It's the same in every country I suppose.
1000 zł
Restaurants and coffee shops in Polish cities
I made the point in my previous post on the cost of living in Poland that it's not expensive to eat out and have a coffee in Poland.
If you wish to eat out at a reputable pizza restaurant, indulge yourself in Polish cuisine or visit a pierogarnia (dumpling restaurant) a few times a month, your wallet shouldn't take a hit.
One of my favourite places to eat out in Gdańsk is the dumpling restaurant Pierogarnia Mandu.
Looking at Mandu's tasty menu, one can eat out well in Gdańsk for around 30-35 zł. Hence, for a couple, it costs around 90 zł for two portions of pierogi and two soft drinks.
As for coffee, the price of a small cappuccino in Cukiernia Sowa is currently 12 zł. It was 9 zł a few years ago. 12 zł is borderline acceptable. However, I think it'd be daylight robbery if the price reaches 13 or 14 zł.
On the basis of eating out and visiting a cafe for coffee and cake once a month, I think 150 zł is about right.
150 zł
Public transport in major Polish cities
It's not expensive to buy a monthly pass to travel on public transport in Gdańsk and other major Polish cities.
At the time of writing, it costs 109 zł to buy a monthly pass valid on all days of the week to travel on regular, fast and night routes within Gdańsk city limits. 
Surprisingly, a monthly travel pass in Gdańsk is cheaper than buying a pass in most other Polish cities.
I pay 109 zł for a monthly public transport pass to get around Gdańsk. It's a lot less hassle to take a tram into town or a bus to the district of Wrzeszcz, than it is to sit in traffic jams and worry about having to find a parking spot.
Let's imagine that one half of our couple travels 15 km to and from work every day by car, and spends around 350 zł per month in total on petrol. Bear in mind that petrol prices in Poland seem to be lower than in neighbouring EU countries. The other half of the couple relies on public transport (109 zł).
459 zł
Healthcare in Poland
My wife and I currently have access to public medical services offered by the National Health Fund (Narodowy Fundusz Zdrowia; NFZ). Hence, we have peace of mind knowing we can get emergency healthcare should we need it. 
As for going to see a doctor, we tend to rely on private specialists. Most specialists in Gdańsk charge around 150-200 zł for an appointment.
I have some experience with searching for prices for private healthcare packages.
A few years ago, I was in contact with an agent from the healthcare provider, Medicover. 
He was determinedly trying to sell me the provider's Elite + package for several weeks. This package offers comprehensive outpatient care, unlimited home visits, hospital treatment and medical care overseas.
I was quoted a price of 653 zł per month to cover both my wife and me.
I don't doubt that the package is "fully comprehensive". However, I was not willing to pay that sort of money. 
In the future, we may look into buying a cheaper basic medical package which provides ambulance and emergency services and same day visits at Medicover Express. Hence, the ideal package to cover all that would be Standard+.
The annual fee for two adults is 2,277.72 zł. This has gone by around 400 zł since August 2021. 
If you are employed in Poland under a full-time employment contract (Umowa o pracę), you will be covered by the NFZ via the health insurance contributions you must pay.
190 zł per month (medical package for two people)
Adding things up
First of all, let's recap. Our imaginary couple are renting out a 75m2 flat in a 2016 block of flats in Gdańsk. They are childless. One half of the couple travels to work while the other half relies on public transport.
I will now add things up so you can get a better sense of the cost of living in Poland per month. 
Rent with a parking space – 4200 zl

Communal fees – 662 zł

Internet – 60 zł

Electricity – 170 zł

Mobile telephone – 60 zł (two people)

Grocery shopping – 1000 zł

Restaurants and cafes – 150 zł

Petrol and monthly public transport travel pass – 459 zł

Basic private healthcare package – 190 zl (for two)
TOTAL = 6951 zł
Frankly, I think I've been quite modest with some of the estimates I've provided. I'm sure that many people like to go out for a meal and for coffee more than once a month. Moreover, the estimate for fuel expenses may also be on the low side.
Of course, you would need to add the cost of cosmetics and other leisure activities to the total estimate. Let's not forget that I haven't considered the cost of buying clothes and food etc for children.
Overall, I may conclude that most Polish couples (with or without children) might struggle if only one person works.