If you'd like to buy a used car in Poland, and tremble at the thought of getting ripped off, you're in the right place.
This post details the various shenanigans I faced when I viewed second-hand cars being sold by both private sellers and used-car dealers in Gdańsk. I was out of my depth due to my rather limited command of Polish and lack of basic car knowledge.
The State of Play on the Second-Hand Car Market in Poland in 2023
I've updated this post to describe the state of play on the second-car market in Poland as of July 2023. 
In July, the median price of a second-hand car was 31,200 zl. This was 300 zl lower than the median price recorded in February 2023. The date comes from the monthly AAA AUTO Barometer (Barometr AAA AUTO) report. This report analyses data on the sale of used cars in used car lots, on websites and at used car dealers. 
If you go back in time to July 2020, the median price of a used car was 18,900 zl.
During the COVID pandemic, problems with delivering new cars to customers resulted in a decrease in supply and an increase in demand on the used car market. Car owners postponed replacing them, so there were fewer ads for sale. Willing buyers could not count on showrooms, so they reached for used cars.
On the AAA Auto website, I have read a very revealing statement made by Karolina Topolova, CEO and President of the Management Board of AURES Holdings, the operator of the international network of AAA AUTO car centres. She said that the median price on the Polish secondary market increased yet again. However, she hints at a potential cooling of the market from August onwards. She relates the Polish used-car market to its Czech counterpart. In Czechia, the average price of used cars fell in July after many years of being at a high level. 
According to the AAA Auto Barometer report, 193,882 second-hand cars were offered for sale on the secondary market in Poland in July 2023. This was 528 cars less than in June 2023. However, the increase in the number of "almost new" cars with low mileage is clear on advertising portals. As a result of this trend, prices of much older used cars began to stabilise at the end of 2022. As we approach the tail-end of summer 2023, the first drops in prices are already being observed.
Facts and figures relating to the used-car market in Poland from July 2023
As I've already highlighted, the median price of a used car in July 2023 was 31,200 zl.
Median mileage in July 2023: 179,000 km
Average production year in July 2023: 11.9 years
Most popular model offered for sale: Opel Astra (5,496 offers) followed by Volkswagen Golf – 4,245 offers, and then Audi A4 – 4,182 offers. 
The largest number of offers for the sale of used cars in July 2023 appeared in the Mazowieckie Voivodeship – 37,396 offers, and the lowest in the Opolskie Voivodeship – 3,109 offers.
The most expensive cars were offered in Mazowieckie Voivodship (median price: PLN 39,500), and the cheapest in Lubelskie Voivodeship (PLN 24,900).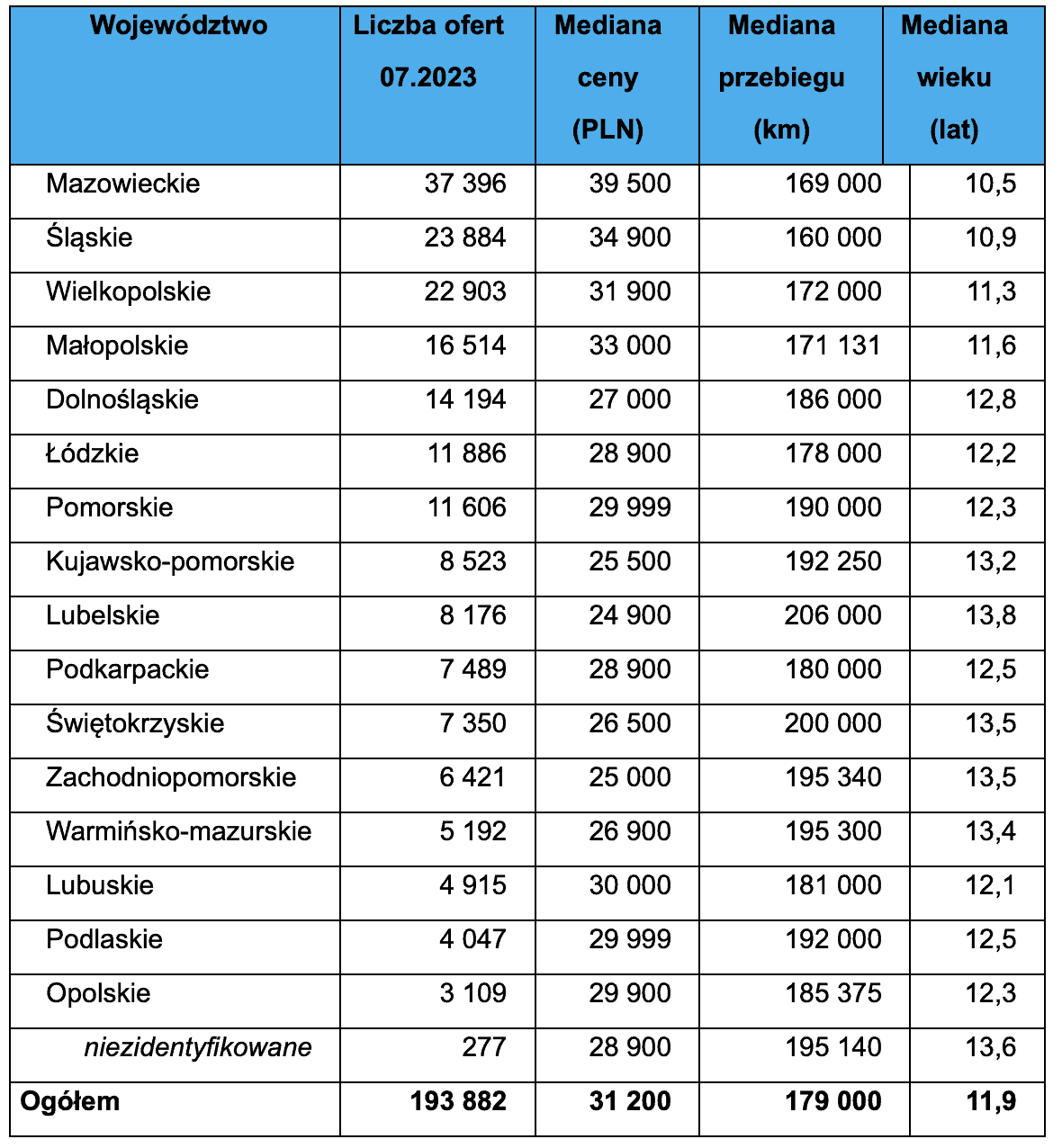 KEY:
Województwo – Voivodeship/Region
Liczba ofert – number of offers (for July 2023)
Mediana ceny – Median price
Mediana przebiegu – Average mileage (km)
Mediana wieku (lat) – Average age (years)
First port of call to buy a used car in Poland – OTOMOTO
One of the most popular websites for the sale of used and new cars in Poland is OTOMOTO.
Searching for cars on OTOMOTO is very self-intuitive. Even with zero knowledge of Polish, you'll still be able to navigate your way through the search boxes and recognise what's what. Google Translate can always come to the rescue.
Many official dealerships advertise used cars on OTOMOTO. These cars may be more expensive than ones advertised by private sellers. However, they usually come with a warranty.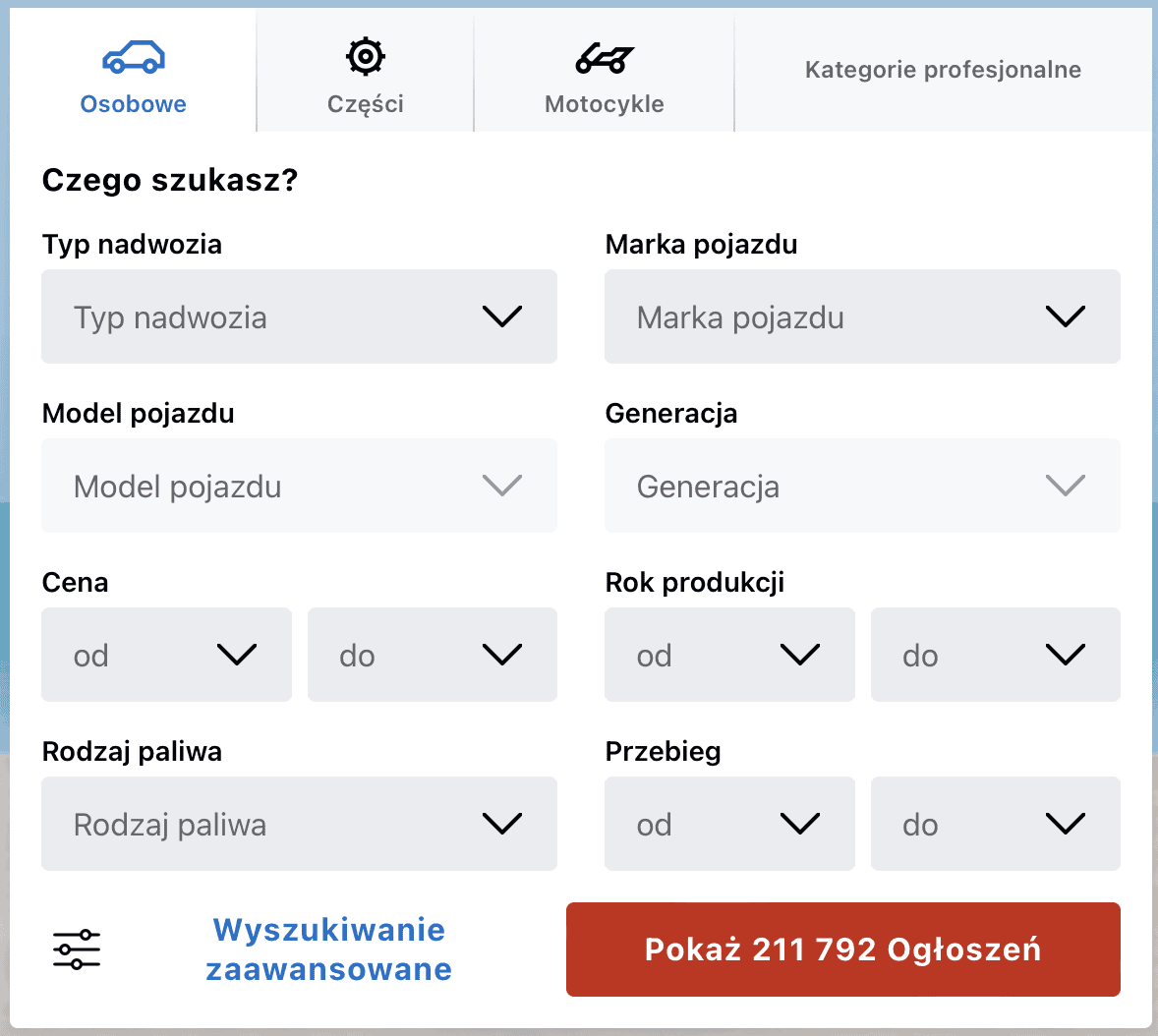 Click on 'Wyszukiwanie zaawansowanie' to carry out an advanced search with a greater range of filters, including car damage categories (stan uszkodzeń) and Location (Lokalizacja):
To see even more filters, click on Pokaż więcej filtrów to see this:
Above, we have for example:
Kraj pochodzenia – Country of Origin
Nadwozie – bodywork
Dodatkowe wyposażenie – Additional equipment
Silnik i napęd – Engine and drive type
Entirely at random, here are the details for a 2012 Volkswagen Golf VII 1.4 TSI BMT Highline: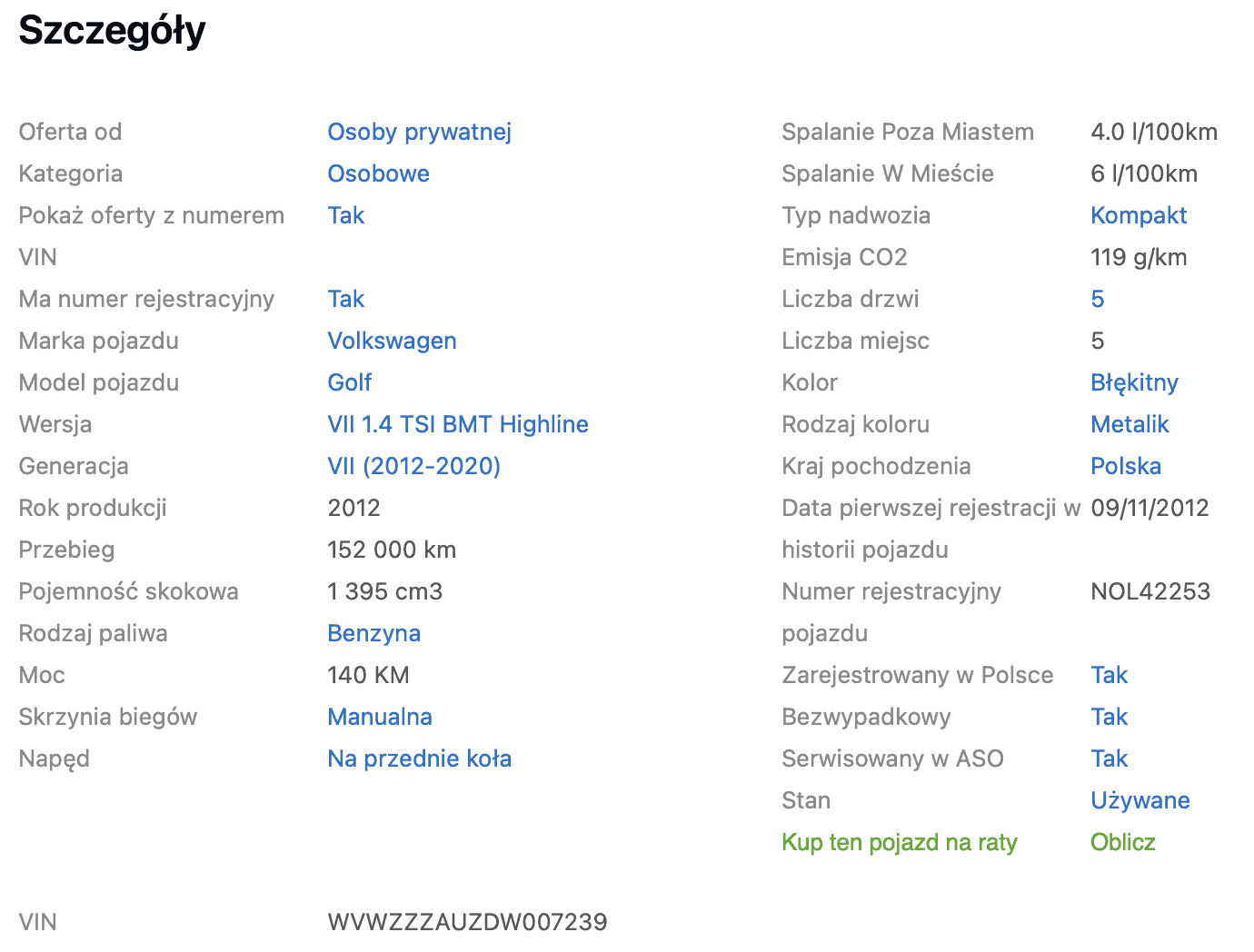 Pierwszy właściciel means first owner. Bezwypadkowy means accident free. Therefore, everything should be fine and dandy, right?
Nope.
If you want to buy a used car in Poland, you're going to have to dig a bit deeper than these basic details on OTOMOTO.
Let's check out what happened when I came very close to buying a used Skoda Superb.
Don't just rely on an owner's word and what you see on OTOMOTO
Definitely sucked in by the word "bezwypadkowy", I called the owner of a 2015 Skoda Superb to arrange a viewing of the car.
The owner let me go for a test drive. Just as I expected, the car was comfortable and seemed to be mechanically sound. There were a few scratches on the car which I didn't worry about too much. 
At the end of our meeting, I asked the owner to show me the registration certificate (dowód rejestracyjny). I took a picture of this for a record of the licence plate number, the Vehicle Identification Number (VIN) and the date the car was first registered.
With these details, I was able to check out the car's history online.
The Online Central Vehicle Register
Proud of myself for being responsible, I entered the details of the Skoda into the online Central Vehicle Register: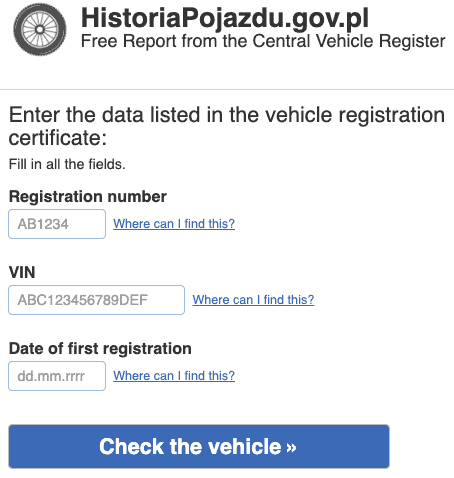 The register is kept by the Minister of Digitization on the basis of the provisions of the Road Traffic Act. Data for this register has been submitted by several thousand entities independent of the Minister of Digitization since 2004. These entities include, among others, the Police, the Road Transport Inspection, the Insurance Guarantee Fund and the Polish Motor Insurers' Bureau.
What kind of information about the history of a vehicle can you obtain from the Central Vehicle Register?
As soon as you've entered the data belonging to a car into the Central Vehicle Register, you can check the following:
standard technical data, e.g. engine capacity and power, type of fuel and average fuel consumption per 100km

whether the vehicle has a valid compulsory third party liability insurance and the policy expiry date

the number of previous owners and the province of the first registration of the vehicle

information regarding whether the vehicle was owned by a company, organization or a private individual

a timeline which details the car's previous owners, addition of any co-owners, periodic technical inspections and previous odometer readings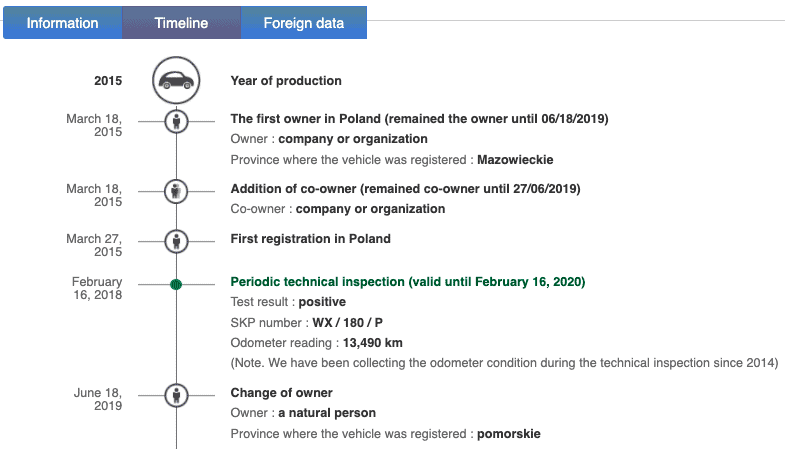 You can also download a PDF which summarises everything related to the car's history and current status.
Overall, I believe that historiapojazdu.pl has its uses. However, as it's free, it only seems to provide basic information about a car. 
Risks according to Carfax
The Central Vehicle Register cooperates with Carfax – a commercial web-based service that supplies vehicle history reports to individuals and businesses on used cars.
Here's the Carfax report which shows a very clean history for the Skoda: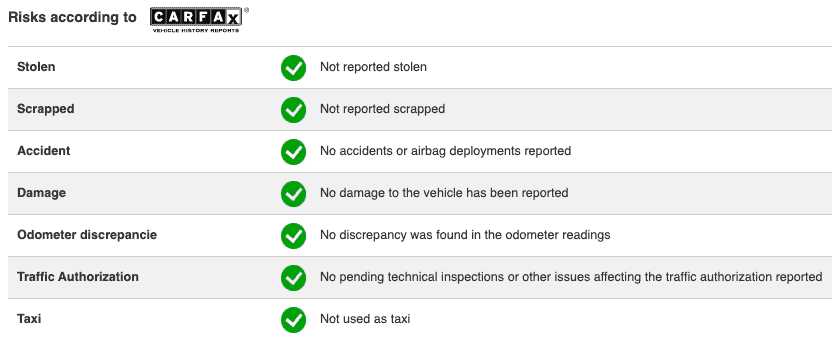 When it comes to European cars, Carfax doesn't cut the mustard. It's an American company and therefore its main markets are the USA and Canada. It doesn't have all the vehicle history reports for European cars.
Incomplete reports: The dark side of the Central Vehicle Register
Here's a translated section I found on Uniqa's (an insurance company) website: 
Since "Vehicle History" uses the CEPiK database, we can only check cars registered in Poland through it. If the car was imported from another country or used abroad for a long time, the application will not return the full history of the vehicle – we will not know, for example, service data. If the car has been marked as stolen abroad, we will not find out about it either. In addition, we will not learn from this database about minor damage and collisions in which the vehicle was involved. This is the case regardless of whether these events were reported by insurance companies as an insurance adjuster or not.
I'm glad my friend made that call
Back to the Skoda Superb. 
I offered the owner 7,000 PLN less than what he was asking for. Typically, he returned with a counteroffer – 3,500 PLN less than the asking price. I was ok with that.
Owing to my rusty Polish, I got my friend to call the owner. I wanted to find out the answers to the following points:
whether the owner still planned to change the oil as he initially promised;

when the current technical inspection was valid until;

why there were two scratches on the car, and whether they were "deep" scratches.
My friend got back to me and explained that the car once had a "bump" on the left side of the car. 
Indeed. Alarming bells started to ring.
What is a "bump"? Was it just on one of the doors? Did another car smash into the left side of the car?
Autobaza – It could be your saving grace
Somewhat gullibly, I decided to investigate the "bump" further instead of giving up on the Skoda altogether.
A quick google search led me to the website autobaza.
The first thing I did was to type in the Skoda's VIN: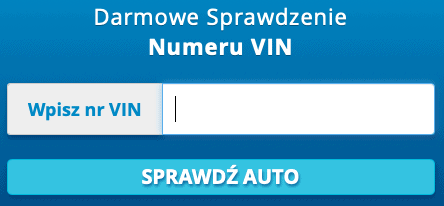 The next screen gives you a taster of a car's history. The single entry in the incident history section (Historia incydentów) intrigued me. Did the Skoda Superb just have a small bump or was there more to the car than met the eye?
I paid 70 PLN for a report which details the car's history.
On my dashboard, there is a list of reports pertaining to the Skoda:
Let's click on the first Otwórz raport to check out the car's history.
The first thing I saw was the following warning:
This means that the site has picked up a reported event/incident.
Let's move on. 
Finally, some good news. The "database of stolen vehicles" didn't detect anything:
Now, the vehicle's history. Not a good start. There was an "incident" in April, 2016, involving the left, back left and back end of the car. A smash made in Poland!:
I also found it interesting that the colour of the car was grey (szary) in October, 2019:
Yet, in February 2021, the colour of the car was different (inny kolor):
Finally, autobaza didn't detect any foul play with the current odometer reading: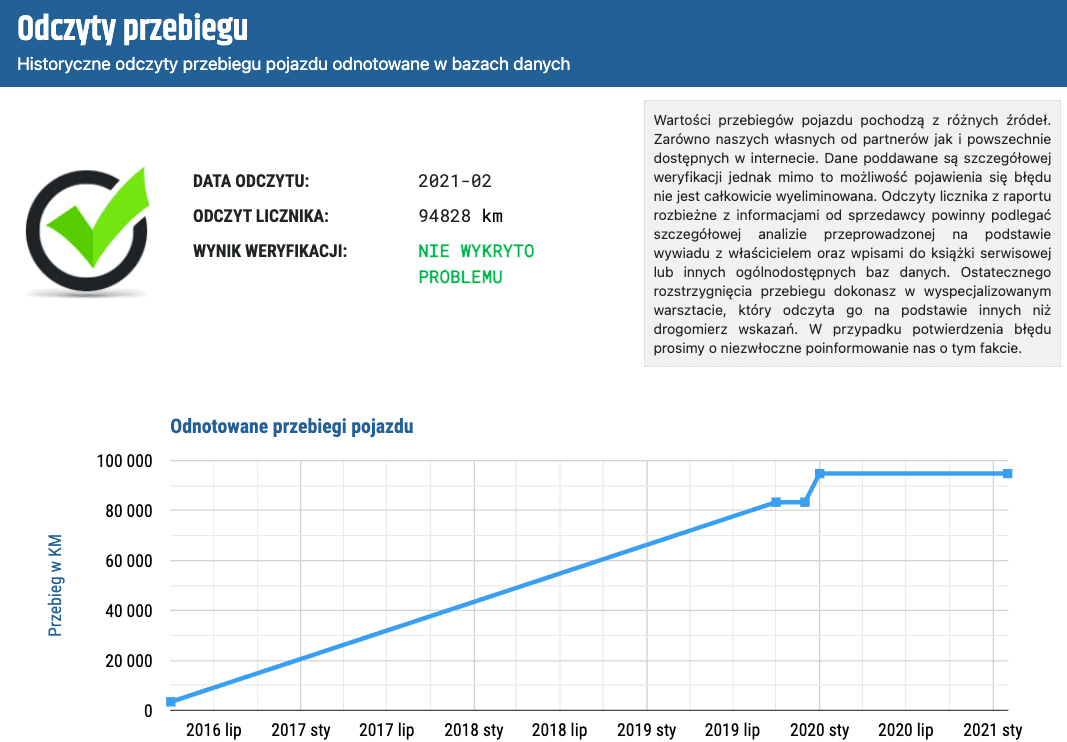 The incident
The graphic of the car in the image below informed me that the Skoda had probably incurred more than just a small bump:
Even though the areas of the car highlighted in orange are only illustrative, I wasn't willing to take any risks with this car.
After all, if I had to resell it in the future, other potential buyers would have the same doubts as I had.
To buy or not to buy a used car in Poland?
This experience with the Skoda Superb makes it very unlikely that I'd be able to go out and buy a used car in Poland in the future. 
In fact, I went out and bought a "new" 2020 Ford Kuga at an authorised Ford dealer a few days after giving up on the Skoda Superb. Basically, I bagged an unused car at the price of a very good second-hand car. 
All in all, it's a dog-eat-dog world out there. Unfortunately, you have to have a "I don't believe anyone" mindset in this day and age.
FAQ – Buy a used car in Poland
In Polish, ASO stands for Autoryzowana Stacja Obsługi. In English, this is an authorised service centre. Essentially, an ASO is an authorised car dealership of a specific motor brand. 
An ASO carries out diagnostics, services and all types of repairs of a certain make of a car.
Most second-hand car sellers in Poland post an advert on otomoto.pl. Other popular portals include autotrader.pl, olx.pl, gratka.pl and allegro.pl.
There are also plenty of Facebook groups dedicated to a given brand/model. The "Exchange" section is the norm for most cars. It's also worth considering the increasingly popular Facebook Marketplace.
Apart from autobaza, carVertical is popular in Poland. 
carVertical has established a presence in 27 countries. Its car history reports are based on data from 1,000+ international databases belonging to national car registries, insurance companies, law enforcement agencies, official garages, and other institutions.