Finding Poland recently caught up with Daniel Paczkowski. Daniel is a genealogical researcher, tour guide and owner of the website Ancestral Tourism in Poland.
Daniel resides in Białystok. He is a member of the Polish Tourist Guides Society (PTTK) in Białystok, and the Association of Professional Genealogists (APG). Daniel is also co-founder and member of Jamiński Zespół Indeksacyjny. This is a group which indexes metrical books from parishes located in the north-eastern part of Poland.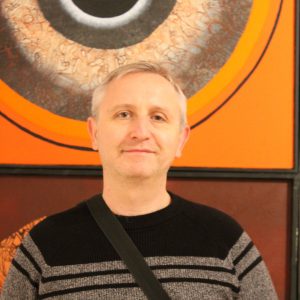 1. First of all, Daniel, could you tell Finding Poland about how your genealogical and travel services site was born?
I believe that two experiences inspired the initiation of Ancestral Tourism in Poland. The first one was research of my own family roots. This began seventeen years ago after conversations with my paternal grandmother. She showed me notarial documents, which were written in the Cyrillic Russian language, from the beginning of the twentieth century. My grandma had a sound knowledge of her ancestors, reaching back to her paternal great-grandfathers. Overall, it was a fantastic and intriguing experience for me to get to know more about my family history.
The second reason which led to the creation of ancestral-tourism.com was more to do with a passion of mine. I had always enjoyed travelling, especially weekend trips to places connected to my childhood. These include churches, old buildings and any other places with an interesting history associated with them.
In light of all of the above, it was only a matter of time before I'd become a licensed tour guide. I enrolled on a tour guide course and passed the exams in 2011. After receiving my license, I began to promote my tour guide services. My initial aim was to escort tourists within the Podlaskie Voivodeship.
As a tour guide, I came to realise that tourists prefer to visit the same old places. These places include Supraśl, Białowieża, Tykocin and Białystok. I knew that I had to change this situation. Hence, the idea to mix genealogical research with tour guide services popped into my mind.
2. Google Search Console statistics for my article about

acquiring Polish citizenship by descent

reveal that many people are actively carrying out searches like "polish citizenship through grandparents" and "obtaining Polish citizenship through ancestry". We are now in the post-Brexit area. Many British people with Polish roots are seeking to get a Polish passport to improve their chances of possible visa-free travel in the future. Is it a little sad if some people are just trying to secure a Polish passport, without knowing the names of their Polish grandparents, great-grandparents and so forth?
I lived with little knowledge of my ancestors for most of my life. Hence, I can imagine that people can live well without such knowledge. However, when you realize how important it is to know who your ancestors were, places where they hailed from, cultures they were shaped by and how all of this shapes your own identity, you are in a moment which changes your life forever.
3. You get many inquiries from those interested in researching their family history to go to rural areas and obtain information from local folk and people who lived on a particular site in the distant past. Can you share some of your memories from such research projects whereby you had to strike up conversations with strangers? Presumably, not everybody is so friendly towards you?
Paradoxically, I've never been in a situation where people were unfriendly towards me. Most of them were very helpful, even if their knowledge about my research subjects was rather limited. I occasionally come across reluctant people, but an initial flurry of conversation tends to break the ice.
One of the most intriguing research adventures I've ever been involved in took place just last year. First of all, I conducted some initial research in an archive. I identified the brother of my customer's grandfather, who left Poland for America at the end of the 19th century. My second task was to drive to the target ancestral village and piece together information about the site where the house of my customer's ancestors stood. Soon after my arrival, I met a lady in a church who shared the addresses of families with the same surname. All of these families lived in this particular village.
At the second house I visited, a lady informed me that the families with the surname in question were related. Unfortunately, she wasn't able to connect the archival information I had found with her own ancestors. However, she did show me an old notarial document which proved the purchase of the parcel of land. It turned out that her family purchased the land from a family which acquired the land and the house from a childless man whose name and surname was the same as the brother of my customer's ancestors. The notarial act also mentioned this brother's date of death during the Second World War.
After visiting this lady, I drove to a cemetery to see what I could find. After about two hours of searching, I found a gravestone of the man with the same name, surname and death date as in the notarial act. The same gravestone was commemorated to a lady whose name and surname was the same as my customer's great-great grandmother.
The final step was to check the relevant death records in the archive. This proved that I had found the gravestones of the right people. Taking into account the information within the notarial document, I was able to locate the place where the house of my customer's ancestors most likely stood.
4. I've seen one of your posts about part of a birth record from the Suchowola parish, dating back to 1862. Challenging writing characters included, describe some of the frustrations you have faced as a genealogical researcher.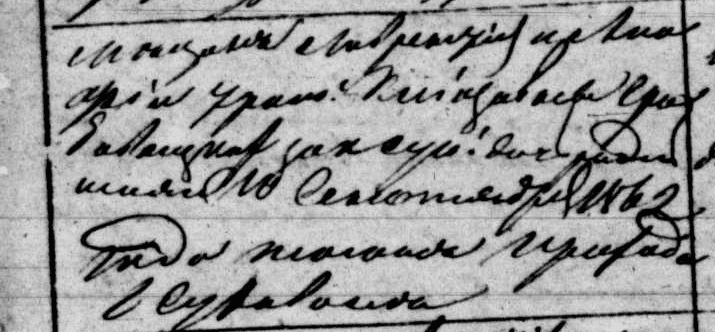 You're right! In addition to illegible writing, one of the most frustrating parts of my work is when I receive some initial information from a customer about their ancestors and, although I work hard with the records I'm able to locate in the archives, I cannot find enough information. Sometimes, the information at my disposal is very weak, inaccurate or the records are not detailed enough. It frustrates me when I have to tell my customers that research results are not as rich as their expectations.
5. I notice that you have one big project on the go: "List of soldiers from polish territory wounded, lost or killed in Russo-Japanese War of 1905". Describe how your interest in this project arose, and do you plan to embark on any other large-scale projects in the near future?
I sometimes look for information in old newspapers. It provides genealogical information and shows people's customs, ways of thinking, habits, cuisine and problems they faced in the past.
During one of my own research projects, I found some articles with the names and surnames of soldiers who were wounded and killed whilst fighting in the 1905 Russo-Japanese War. I remembered my grandmother once telling me that one of her uncles fought in this war. In fact, Tsar Nicholas granted him a change of surname to the "more noble form ending with -ski". Unfortunately, I could not confirm this story in archival documents. Anyway, whilst searching for articles about this war, I realised how few archival sources existed. Moreover, the published information I did find was very weak. Therefore, my idea to publish the surnames of soldiers fighting in this war was inspired by my will to enrich the quality and number of resources available.
I have some other ideas in mind in regard to articles I've found in old newspapers. If time allows, I would like to begin other projects in the future.
6. As I highlighted in this post, my grandfather and his family were born in the former Polish territory of modern-day Belarus. Describe some of your most memorable experiences doing research in countries neighbouring Poland, such as Belarus, Ukraine and Lithuania.
My maternal grandmother was born in the territory of today's Belarus, so my own research and travel led me there.
I had a very interesting research project just last year. I received an email from some American customers whose ancestors hailed from a village near Białystok, as he thought. However, initial checks showed that the surname he provided was connected to a village of the same name in Belarus. Subsequently, I found some old articles linked to this Belarusian village. A study of vital records from the correct Belarusian parish proved that everything was in order. My customers travelled to Belarus soon after to make contact with their relatives.
Link
:
–  Click here to read Daniel's blog "Od Czasu do Czasu"