As my wife and I travel by car from Gdańsk to Bosnia two or three times per year, I'm now well used to driving the entire length of the A1 motorway in Poland.
I'm writing this post to briefly detail my own experiences travelling on this motorway and some basic information about the history of construction and development of service areas.
The A1 Motorway in Poland – Background Information
The A1 Motorway in Poland ('A' standing for autostrada, i.e. motorway,  in Polish) is officially named the Amber Highway (Polish: Autostrada Bursztynowa). This is because the motorway starts near Gdańsk, which is known as the Capital of Amber. 
Hence, with Gdańsk located on the Baltic coast in the north of Poland, the A1 is a north-south motorway that runs through central Poland: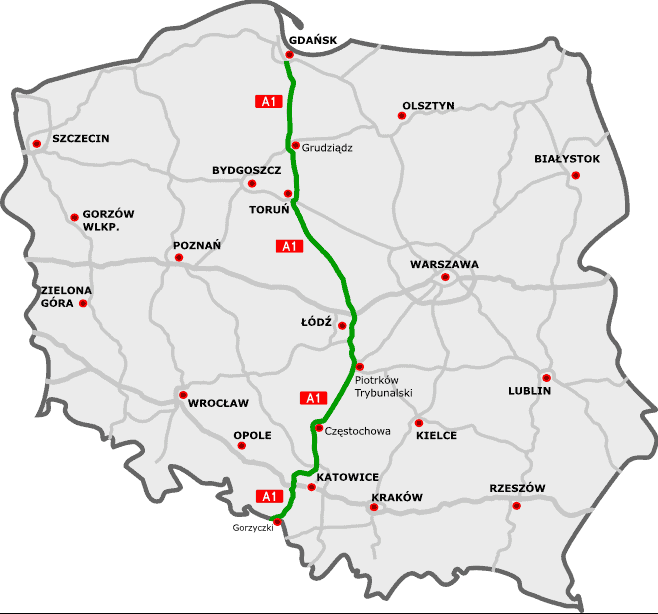 From north to south, the A1 motorway passes very close to the following cities:
Grudziądz

Toruń

Łódź

Piotrków Trybunalski

Częstochowa

Bytom

Zabrze

Gliwice
The industrial region of Upper Silesia is well-connected. Indeed, Katowice is just 15 km away from the A1.
The last 20 km or so of the A1 take a south-westerly course towards the Polish-Czech border in Gorzycki/Věřňovice. It is here that the motorway is connected with the Czech motorway D1. 
For further information and facts about the A1 motorway, in particular its construction, see the FAQ section below. 
Personal experience and observations 
When I drove on the A1 motorway for the first time in June 2019, it took ages (well over two hours) to travel from Pyrzowice (near Katowice Airport) to Łódź. With two narrow lanes in operation, overtaking a lorry was a thoroughly hair-raising experience.
My wife and I tend to travel to and from Bosnia on weekends when the traffic on the A1 is relatively light, and there are few lorries on the road. Our most common routine has been to stay over in the Upper Silesian town of Żory on Saturday. Żory is less than 30 km away from the Czech-Polish border. When returning to Gdańsk early on Sunday morning, the journey from Żory to Gdańsk around 6 hours with two short breaks.
Service areas 
As things stand, there are no passenger service areas with catering facilities and petrol stations between Wiśniowa Góra Wschód (with McDonald's and Orlen petrol station) close to Łódź, and the Wieszowa service area (with KFC and Orlen petrol station) northwest of the Silesian city of Zabrze. This is a huge distance of nearly 190 km. 
I've read an article stating that the Wierzchowisko Wschód (east) and Zachód (west) service areas, north of Częstochowa, will be developed. In fact, the Wierzchowisko West service area will have the highest category III, i.e. it will fulfill leisure and service functions along with accommodation facilities. There will be a gas station, vehicle service stations, catering and commercial facilities and, in the future, a motel. Ultimately, Wierzchowisko East will offer leisure and service functions. This means that there will also be a petrol station, vehicle service stations and catering and commercial facilities. Unfortunately, accommodation will not be available. 
Despite such a  dearth of motrway service stations, there are several feasible options to grab refreshments and fill up with petrol at service areas a short distance away from the A1 motorway between Częstochowa and Łódź:
1. Radomsko/Kluczbork junction (road 42) – MOYA PORT Radomsko petrol station
2. Piotrków Trybunalski – Orlen petrol station. 500 metres or so away from the A1 on the road into Piotrków
Overall, I am sure that other service areas will be developed in the region of Silesia. Everything takes time. For now, I'm just glad that there will be no more construction and 70 kmh speed limits. I once wrote wrote about the pleasure of travelling by train Poland. Finally, it looks as if many Polish vehicle drivers can finally look forward to getting from A to B more quickly than they used to.
FAQ – A1 Motorway in Poland